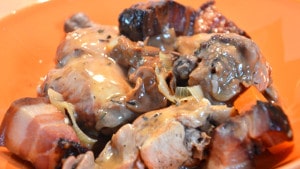 Recipe: Rabbit hunter
Rabbit hunter recipe, a traditional white wine recipe, we ate it with fresh pasta. I was able to have a rabbit from a neighbor who raises them to eat them. They are generous, plump. In addition, this white meat makes it an ideal meat for the diet, although I am not a follower (surprise you?). Nothing to do with the wild rabbit that I had made in a terrine. The rabbit lends itself to many recipes in sauce, in the oven and on the barbecue. It requires a little longer cooking but remains divinely scented with thyme for example. Well the rabbit stew with blood remains my favorite recipe, the rabbit with mustard too and of course the hunter rabbit.
Recipe ingredients
Rabbit hunter recipe for 6 people:
1 Rabbit of 1.2 kg
1 large carrot
2 shallots
2 strips of peasant bacon
2 cloves garlic
1 tablespoon of olive oil
1 knife tip of ginger
190 g of drained chanterelles or on fresh ones if you have some
1 teaspoon of thyme
Salt and pepper
Instructions
Cut the rabbit or have it done by your butcher.
Cut the bacon into large cubes.
Peel then mince the shallots and garlic.
Peel the carrot, then cut into thin slices
Heat the cast iron casserole dish with the olive oil.
Grill the bacon on all sides, then set aside.
Sear the shallots with the carrots, then set aside.
Grill the rabbit in the casserole dish on all sides.
Salt and pepper.
Add the thyme.
Sprinkle the rabbit with flour once it is golden brown.
Toast the flour a little.
Add the chanterelles and all the reserved products.
Pour in the white wine.
Simmer for an hour.
Preparation time: 20 minutes
Cooking time: 1 hour (s)
Number of people: 6
4 star rating: 1 review
What wine to drink with: Rabbit chaser
My favorite wine for this recipe: Red Anjou Grape Gamay
Temperature between 11 ° and 12 °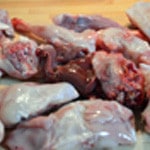 Cut the rabbit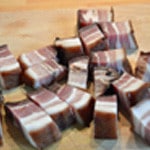 Make big bacon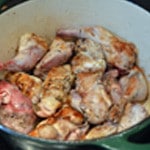 Sear the meat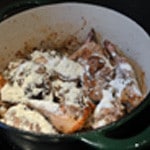 Lightly flour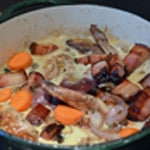 Add wine