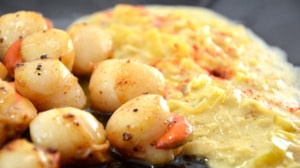 Recipe: Saint Jacques with yellow wine
Recipe for Saint Jacques with yellow wine, and yes I still had some yellow wine and the Saint Jacques were waiting in the freezer. What a wonderful idea to pair scallops with leeks and a yellow wine sauce. Saint Jacques with yellow wine, I will do the recipe again, I loved it and in the house, it was not just me. I love the flesh of the Saint Jacques especially if the cooking is perfect, I used frozen Saint Jacques nuts, it is true that I like to cook them fresh, but for the moment they are much too expensive. By letting them drain well of all their water I was not disappointed. So a lot of pleasure with these Saint Jacques with yellow wine, this characterful sauce and the sweetness of the nuts.
Recipe ingredients
Recipe of for 4 people Saint Jacques with yellow wine:
400g frozen scallops
4 leek whites
25 cl of yellow wine
50 g of butter + 50gr
25cl of cream
1 tablespoon of olive oil.
1 teaspoon ground pepper
Salt
Instructions
Defrost the scallops the day before.
Place the scallops on cling film to dry them well.
Peel then cut the leek whites into slices.
Heat a saucepan with 50 g of butter.
Add the leek whites.
Pour in the yellow wine as soon as the leeks are transparent, cook for 5 to 6 minutes.
Add the cream and let the sauce thicken.
Heat the pan with the butter and oil.
Place the scallops in the hot fat.
Turn quickly and they are cooked in a few minutes.
Season generously with salt and pepper.
Heat the plates before serving.
Preparation time: 10 minutes
Cooking time: 6 minutes
Number of people: 4
4 star rating: 1 review
What wine to drink with: Saint Jacques with yellow wine
My favorite wine for this recipe: Chardonnay yellow wine, Pinot blanc, Savagnin
Temperature between 15 ° and 16 °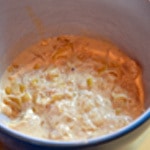 Prepare the sauce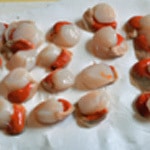 Wipe the scallops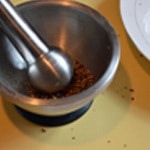 Loot the pepper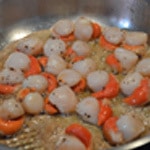 Seize the scallops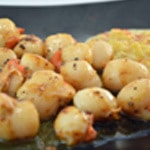 Zoom