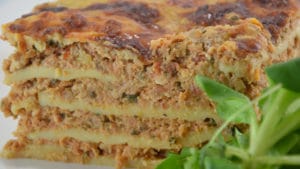 Ham and Chicken Lasagna Recipe
Summary: I picked up promotional ham scraps and chicken fillets in my hypermarket. So Ham and Chicken Lasagna, I like to cook lasagna, it's a bit long, but the result is so rewarding. We love all fresh pasta, I love working it by hand, flouring countertops, spreading and cutting the dough. Ham and chicken lasagna to try it is to adopt it. I chose a Beaujolais to accompany this recipe for Lasagna with ham and chicken from the Millhomme estate in Ternand in the Rhône department.
Ham and Chicken Lasagna Recipe for 10 people:
Ingredients
500 g of fresh pasta
1 kg of chicken
450 gr of white ham heel
½ cooked Morteau sausage
400 g carrots
1 bunch of parsley
2 onions
50 g flat-leaf parsley
300 g of sundried tomatoes
1 can of peeled tomatoes
4 mozzarella balls
150 g Emmental
8 tablespoons of olive oil.
1 teaspoon of paprika.
Salt and pepper
Instructions
Make the dough fresh like here.
Chop the chicken and ham or have it done by the butcher.
Salt 10 g per kg of meat and pepper 1 g per kg of meat.
Stalk then chop the parsley,
Peel then chop the carrots and the peeled tomatoes.
Chop the onions, the sundried tomatoes and 3 balls of Mozzarella.
Sprinkle with paprika.
Mix the preparation well.
Lightly oil the bottom of a baking dish.
Place a row of fresh pasta.
Then a row of sauce, sprinkle a little grated cheese.
Cross the pasta and renew the layers until all the preparation is used up.
Finish with the grated cheese and cut the Mozzarella ball into slices.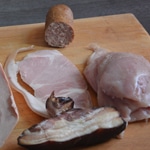 Meat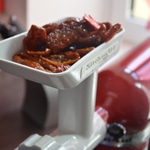 Chop the tomatoes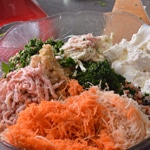 Chop the vegetables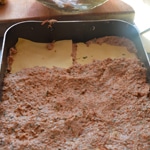 Assemble the lasagna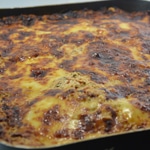 Cooked lasagna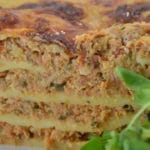 What wine to drink with: Ham and chicken lasagna
My favorite wine for this recipe: Beaujolais red Grape Gamay
Temperature between 10 ° and 12 °
Partnership With the Millhomme estate in Ternand in the Rhône
A thought to all those connected from France or abroad in love with French cuisine and these wines, here is a great opportunity for you to be able to buy a quality wine without any risk, to accompany my recipe for Lasagna with ham and chicken I selected this Beaujolais wine from the Millhomme estate in Ternand Cuvée Mûrier vintage 2015, after tasting it, I loved it. With its brilliant almost purplish color, it develops aromas of ripe grapes with its 13.5 ° it goes wonderfully with these lasagna with ham and chicken.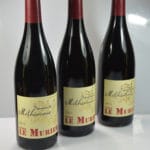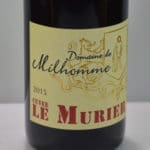 Here the vines are worked by hand from pruning to harvest, thinning is done in order to select the best bunches. It is said that during the invasion of Gaul by Julius Caesar in 52 BC, a heroic resistance manifested itself on the slopes of Ternand, a thousand men were killed. The Domaine de Milhomme was born, so a little visit is in order.
Domaine de Milhomme
69620 Ternand
Phone 04 74 71 33 13
Mail: contact [at] milhomme.com
 </p