Highland Park Sauce Recipe
For some time now, I have been planning to present more or less easy sauces to you every Monday, but in any case a sufficiently interesting repertoire to diversify our cuisine. To start, an American sauce: Highland Park Sauce. This is a special sauce for large pieces, for cooking on the barbecue. You will love this Highland Park Sauce, of course a little sweet. You will later have a large rack of pork that we cooked San Francisco style, accompanied and coated with Highland Park Sauce. I really liked the preparation of this sauce, with all these ingredients that do not always meet, the nuances of colors, and of course at the end the grilled tasting develops even more flavors. I would have liked it barely more raised, but I followed the instructions of François who lives today between California, France see even in Rhône-Alpes, since it is his region of origin. Thank you Aubery's cuisine.
Highland Park Sauce Recipe for 8 people
Ingredients
6 Garlic Cloves
300 grams of Ketchup
200 grams of Honey
20 g of grated fresh ginger
1 teaspoon of Espelette pepper.
1 teaspoon of Paprika.
1 teaspoon of Turmeric
70 grams of Brown Sugar
30 grams of Balsamic Vinegar.
40 grams of Worcestershire Sauce. An ideal English sauce for barbecued meats.
40 grams of Soy Sauce
70 grams of Whiskey. You can replace it with Cognac.
Instructions
Peel the garlic, then chop as finely as possible.
Pour in the ketchup then the honey.
Grate the ginger over the Ketchup.
Add the Espelette pepper and paprika.
Sprinkle with brown sugar and Turmeric.
Add the Worcestershire sauce and vinegar.
Pour in the soy sauce.
Add the Whiskey.
Mix to incorporate all the ingredients.
Preparation time: 30 minutes
Cooking time: 0 minutes
Number of people: 8
4 star rating: 1 review
What wine to drink with: Highland Park Sauce Recipe
The choice of wine will be made more with the meat that this sauce will accompany.
Origin of the recipe
Aubery's cuisine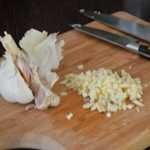 Peel then chop the garlic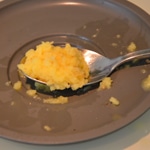 Grate the ginger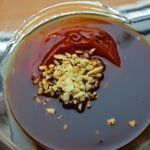 Pour the honey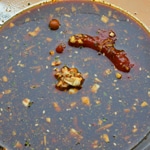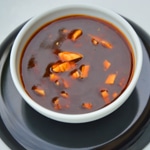 Mix the sauce