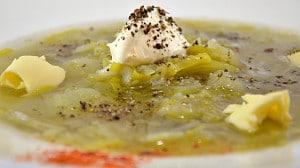 Recipe: Leek soup
Leek soup recipe, recipe with potatoes, its real name leek soup Marguerite. An easy soup to make with a particular flavor, the leek gives its nobility to this Marguerite soup, it should not be mixed o, must find leeks and potatoes, custom dictates that it is served with hazelnuts of very cold butter and a nice quenelle of fresh cream in the middle. You will be surprised by this leek soup, with the cold weather coming, it will warm the heart and the atmosphere at home. Be generous with the leek and keep only the very white part, I also like to plunder some peppercorns just before serving it.
Recipe ingredients
Leek soup recipe for (4 people)
800 g leeks
400 g of potatoes
1 large teaspoon of Guérande
40g butter
4 teaspoons of heavy cream
2 turns of a pepper mill
4 turns of nutmeg mill
1 liter of water
Instructions
Peel and wash the potatoes, cut them into small pieces.
Prepare the leeks by slitting them in half and rinse them under cold water and then slice them finely.
In a saucepan pour salted water, potatoes, cook until boiling.
Add the leeks and cook 22 minutes.
Pour the soup into deep plates.
Place a few knobs of very cold butter.
Place a nice quenelle of heavy cream in the center.
Preparation time: 20 minutes
Cooking time: 22 minutes
Number of people: 4
4 star rating: 1 review
What wine to drink with: Leek soup
My favorite wine for this Beaujolais (red) recipe Grape varieties: Gamay
Temperature between 11 ° and 12 °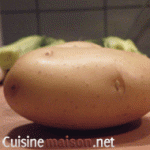 Peel potatoes
Cut into cube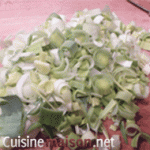 Cut finely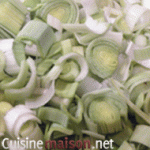 Zoom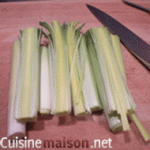 Slice in half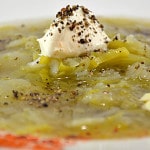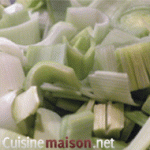 Rinse the leeks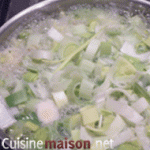 Cook gently
More recipes:
Leek and bacon soup

Leek and raw ham soup

Spinach soup

Tomato soup
butter
Heavy cream
Leeks
Potatoes Pascal
Hide reactions

a good basic that warms up at the moment

a light and tasty soup. thank you for your visit on my blog, kisses

Hello Pascal! I'm back ! happy to find you and your recipes !! Everything at home is so delicious, even the soup !! you make me salivate just looking at her because I think it's my favorite leek soup !! big kisses, see you soon

I'm more used to leek soups, suddenly your soup is unusual because we find the vegetables in pieces and suddenly the texture in the mouth must be interesting! kisses

I like this soup with its pieces of vegetables which become tender! It's a change from the classic leek-potato mix …

I love it! I often do with mixed vegetables but so I like it too 🙂
kisses
laurence

Mmmm !! I love leek soup and cooked so it looks particularly tasty to me it will be perfect for winter evenings!

Good day
Goodbye
Kisses

yum I love soup, and yours makes me want, kisses

Simple and very tasty, perfect !!!
Good day

a good winter classic !!

@Bon Ap at Mamounette
Listen to me, I have a daughter, who doesn't want any pieces in her soup, it's often a real pleasure. And it is the only one which eats with the pieces tests and you will tell me again. Kisses

@giulia
Welcome to my site and above all thank you for your comment. I'm going to visit yours right away. Pascal

@Chris
To be honest with you, I still have 240 recipes that don't fit in the new micro format card model. I have to rewrite them, because my knowledge has evolved a lot and from time to time when I like them I will put them back up. Kisses

at home love soup so no problem, I like yours !!
kisses

The kind of soup I love! Have a good evening.

I wondered what novelty you would bring to this recipe known to all. She remains my favorite. Kisses and have a nice evening

It's my favorite with the tomato and small meatballs;)

This blog is a real collection of quality recipes, I will come to visit it often!

To change the way you make this soup would suit me well. For my part, I have always known and I do the same by mixing the vegetables but the cream quenelle is present especially with real thick cream miamm! good sunday kisses

I would love this good soup …
Good Sunday, kisses.

I love winter for these delicious soups that I love to cook. I love the smell in my kitchen when I prepare it, it reminds me of good childhood memories watching my mom prepare it ^^. Have a good Pascal Sunday,

Saturday I made this soup but no scales at home so weighed by eye and I'm miraud so it's not easy to make the equivalences…. No nutmeg either and not want to put cream and it was super good leek lovers it's super quick and super easy to make for a super good result… .biz
Your reactions / questions / tips: Cancel reply
Remark
Name *
Email *
Website
</p