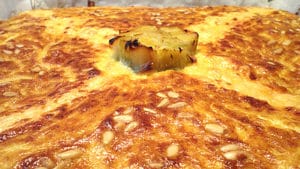 Summary : Leek quiche, this leek quiche recipe can be frozen, like most guiches. We like them, especially during the long autumn evenings, with bacon but also with vegetables or with fish. Leek quiche to serve with a nice green salad. Leek quiche from the garden. Well, the people of Lorraine will tell us that quiches are Lorraine, it is true for some, here I chose to highlight the leeks, which are so abundant in the gardens.
Leek quiche recipe for 4 people
Ingredients :
500 g of leek whites
250 g ricotta
250 g of Comté
1 teaspoon of imperial curry
½ teaspoon of ginger
2 eggs
10 cl of fluid cream
20 g pine nuts
Instructions
Clean the leeks and take the whites, make a bouquet with 6 feet.
Cut in half at the height of your quiche so that they protrude by one cm, tie them with string.
Cut the rest of the leeks into slices.
Steam the leek whites (pressure cooker about 8 to 9 minutes).
Roll out the shortcrust pastry (if you make it you can flavor it with curry).
Mix the cream with the ricotta, the eggs and the spices, salt and pepper.
Spread the leek whites on the tart, then place the preparation gently on the leeks.
Make a place in the center of your pie to install the bouquet of leeks.
Sprinkle your county regularly.
Place the pine nuts.
Place in a very hot 200 ° oven for 45 to 50 minutes.
Preparation time: 20 minutes
Cooking time: 45 to 50 minutes
Number of people: 4
4 star rating: 1 review
What wine to drink with: Leek quiche
My favorite wine for this Chinon rouge recipe Grape variety: Cabernet
Temperature between 15 ° and 16 °