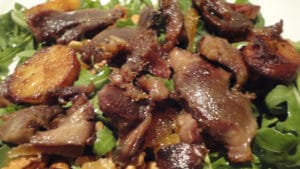 Gizzard salad
Summary: S alade poultry gizzards, a simple mixed salad recipe to make for the end of the summer, she easily accompany the first evenings of autumn. A gizzard salad recipe mixed with grilled potatoes and a small arugula salad, all flavored with hazelnut oil and sherry vinegar. Salad with candied gizzards to start the meal, nothing like this Périgord plate to whet your guests' appetites, it will enhance your start of the meal.
Gizzard salad recipe for 4 people
Recipe ingredients
200 g of candied gizzards
3 tablespoons of olive oil
125 g of arugula
300 g of potato
2 tablespoons of sherry vinegar
4 tablespoons of hazelnut oil
100 g of stale bread
20 g butter
2 cloves garlic
Instructions
Heat in a saucepan of water then place the potatoes, let them cook for 15 minutes.
Wash then wring out the arugula salad, place it in the center of the plate.
Butter the bread with a brush and melted butter.
Pass under the grill at 200 ° for 3 to 4 minutes.
Wing the toast while it is hot ink
Prepare a vinaigrette with 2 tablespoons of sherry vinegar
Add 2 pinches of fine salt.
Pour 2 tablespoons of olive oil and 4 tablespoons of hazelnut oil.
Preparation time: 10 minutes
Cooking time: 15 minutes
Number of people: 4
4 star rating: 1 review
An easy salad to make but which always has a lot of effect, served lukewarm, it will be a nice and fairly light starter.
What wine to drink with: Gizzard salad
My favorite wine for this Cote de Bergerac recipe Grape variety: cabernet Sauvignon and cabernet franc, Merlot
Temperature between 16 ° and 17 °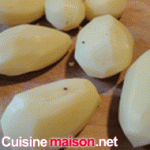 Potatoes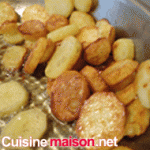 Sear the potatoes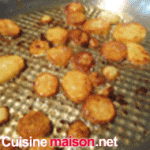 Turn the apples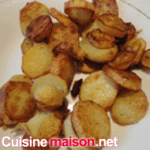 Baked apples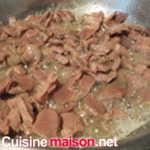 Gizzards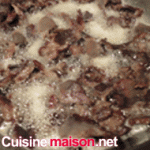 The cooking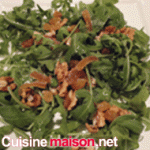 Rocket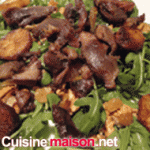 On a plate