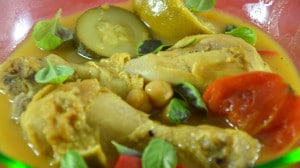 Recipe: Lemon Chicken Tagine
Lemon chicken tagine recipe, a tagine barely spiced up with chili, and the raz el hanout flavored it well, it was divine. I like to taste all these oriental dishes where the flavors are mixed, the flavors a little spicy but always slightly. Besides, I don't remember having eaten too strong a dish, they play with the spices but master them perfectly. I also really like lime when cooked in a sauce and always flavor it lightly, very discreetly. But I especially like the moment when you discover your tagine in front of friends, the colors in your eyes. Then come the perfumes, always a great time, good this time my tagine was too small, I did not have this pleasure. I did not take any risks with the lemon chicken, it is a flawless marriage, moreover the chicken drumstick lends itself well to meat in sauce, it perfumes very quickly.
Recipe ingredients
Lemon chicken tagine recipe for 4 people:
1 tablespoon of olive oil
1 kg of chicken drumsticks
1 can of chickpeas
2 limes
1 green chilli
5 roma tomatoes
4 cloves of garlic
1 large red pepper
2 small zucchini
1 tablespoon of Ras el hanout
1 piece of ginger root
5 mint leaves
12 mini basil leaves
Instructions
Rinse the vegetables in cold water.
Cut the chilli in half then remove the seeds roughly.
Cut the tomatoes into quarters.
Cut the pepper in half, then remove the seeds.
Cut the zucchini into large slices.
Scrape the skin off the ginger and add 5 thin slices
Cut the lemons in quarters.
Grill the chicken with the oil, let the thighs brown well.
Add all the vegetables, letting the chili just cut in half, it will be easier to spot.
Pour 25 cl of water and simmer for an hour, watching it.
Add the chickpeas 30 minutes before the end of cooking.
Rinse the herbs then dry them with food paper.
Finely chop the mint and add it with the small basil leaves, just before serving.
Preparation time: 30 minutes
Cooking time: 1 hour 20 minutes
Number of people: 4
5 star rating: 1 review
What wine to drink with: Lemon Chicken Tagine
My favorite wine for this recipe: Bourgogne Pinot noir Grape Pinot Noir
Temperature between 16 ° and 17 °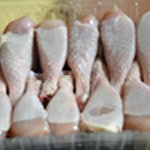 Chicken pillons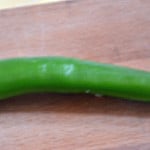 Slice the chilli in half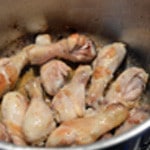 Sear the chicken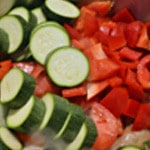 Then the zucchini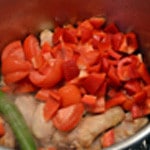 Add the tomatoes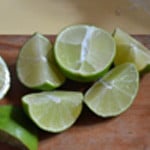 Cut the limes in quarters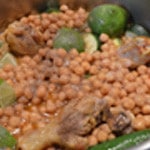 During cooking the chickpeas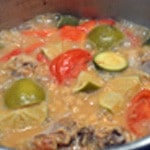 It simmers