Summary : I particularly like these big tagliatelle that I cut with a notched donut wheel. I use my kitchenaid to roll the dough I stop at level 5, like when I make tagliatelle. Do not hesitate to add extra virgin olive oil on the mafaldes after cooking, so that they do not stick. Homemade pasta is class; at home we no longer eat any commercially purchased dough. Do not flour the mafaldes too much, as the flour hinders the cooking.
Mafalde recipe for 8 people
Ingredients :
500 g flour
5 eggs
1 tablespoon of olive oil
5 g of fine salt
Instructions
Put the flour in the bowl of your mixer.
Break the 5 eggs into the bowl.
Add olive oil and salt.
Knead so that the dough becomes a homogeneous ball for 5 to 8 minutes.
Form a ball.
Enclose it in cling film tightly and let stand for at least an hour.
Cut a piece of the dough.
Pass through the sheeter as for tagliatelle, or roll out with a roller if you do not have a machine.
Cut the plates into strips 30 cm long.
Mark the ends of the strips with the roller.
Cut strips of 2 to 3 cm with the donut wheel, in order to indentate the circumference of the pasta.
Preparation time: 3 minutes
Cooking time: 3 to 5 minutes
Number of people: 8
4 star rating: 1 review
What wine to drink with:
My favorite wine for this recipe
It is the meat that will accompany these mafalds that will define the wine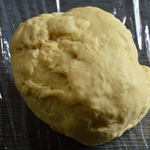 Prepare the dough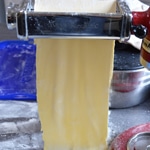 Go to the rolling mill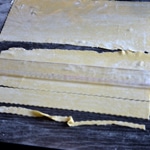 Cut the sick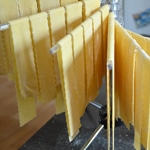 Let the dough dry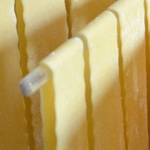 Zoom