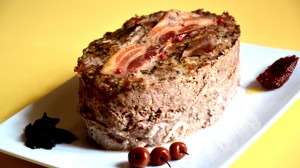 Recipe: Veal terrine
Recipe for homemade veal terrine or country pâté, both appellations go very well for this homemade product. We make this pâté recipe for this special Father's Day. Lots of pork and some veal and strips of smoked breasts for flavor. The terrine was deliciously scented with a hint of smoke. Easy to make pâté recipe, your guests will fall in love with this country terrine.
Recipe ingredients
Recipe Veal terrine for 18 people:
600 g of veal
1.100 g pork loin
500 g fresh pork belly
600 g of smoked bacon
250 g of calf's liver
4 tablespoons of cognac
6 sprigs of thyme
4 bay leaves
½ l of pinot gris wine
4 shallots
1 bunch of parsley
2 eggs
2 cloves garlic
40 g fr Home cooking salt
A little toilet
Instructions
Trim the meats leaving the fat.
Cut the meat into large cubes, keeping the strips of smoked breasts.
Place the meat in a glass bowl.
Pour in the Pinot gris, the meat should be covered.
Peel the shallots added to the marinade.
Add the thyme and bay leaf.
Cover with cling film.
Refrigerate for at least 24 hours (I left it for 48 hours)
Drain the meat.
Rinse the parsley then hull it.
Finely chop the parsley with the garlic.
Sear the liver with the parsley and garlic.
Deglaze the pan with a little marinade.
Chop the meat.
Weigh the meat added to the cooking terrine salt, respecting the dosages.
Mix by hand to evenly distribute the salt and spices.
Peel the garlic and cut it finely.
Add the eggs to the marinade.
Add the marinade to the meat, I put everything.
Mix the meat one last time
Place the toilet at the bottom of the mussels, I cut it halfway through the terrine.
Fill 30% of the terrine with the meat.
Place two strips of smoked bacon.
Cover with the meat.
Place the last slices of smoked bacon.
Complete with the meat to integrate the breast well into the terrine.
Cook in a bain-marie for 1 hour 30 minutes in a hot oven at 180 °, without lids
Add the lids after 30 minutes, once the terrine has taken a nice color.
Preparation time: 40 minutes
Cooking time: 2 hours minutes
Number of people: 18
4 star rating: 1 review
What wine to drink with: Veal terrine
My favorite wine for this recipe: Alsace Pinot gris Grape Pinot Gris
Temperature between 08 ° and 10 °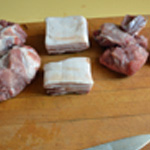 Meat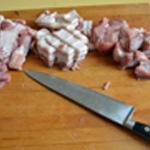 Cut into large cube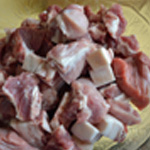 Mix the meat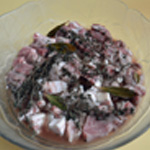 Make the marinade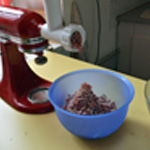 Chop the meat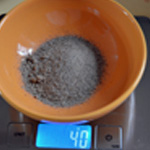 Salt and spices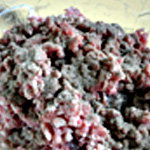 Salt and pepper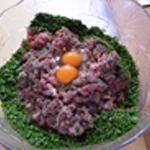 Add the eggs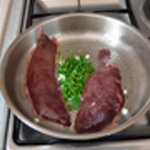 Seize the liver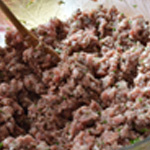 Mix with the liver
Install the toilet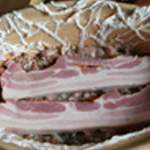 Place the bacon strips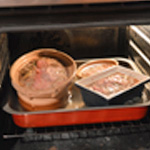 Cook without a lid at the start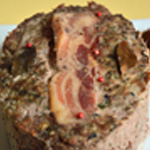 Zoom<img src="/wp-content/uploads/2021/09/5085172694117670830.jpg" class="aligncenter"