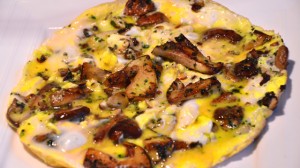 Recipe: Omelette with porcini mushrooms
Recipe for omelet with porcini mushrooms, here we go with the fall and especially the appearance of wild mushrooms, me with the porcini I crack. Of course you will find other recipes on the site with porcini mushrooms. To be honest, they come from the market, too good to wait for someone to bring me porcini mushrooms to cook. I like it when porcini mushrooms cook just a little olive oil and a little butter, I like porcini mushrooms that are golden in butter but still barely crunchy. A porcini omelet for an evening meal with my daughter, of course she loved it.
Recipe ingredients
Cep omelet recipe for 2 people:
6 very fresh eggs
3 beautiful porcini mushrooms.
1 tablespoon of olive oil
50 g butter
2 cloves garlic
10 sprigs of parsley
Salt and pepper
Instructions
Rinse the parsley with plenty of water.
Peel the garlic.
Finely chop the garlic and parsley.
Cut the feet of the porcini mushrooms, then brush them.
Cut the porcini into equal strips.
Break the eggs.
Season the omelet with salt and pepper.
Beat lightly with a fork, be careful there must be a little white in your omelet.
Heat a pan with the butter and oil.
Brown the mushrooms in the very hot fat under a high heat.
Add the garlic parsley.
The porcini mushrooms should turn a nice golden color, just 2 to 3 minutes on each side.
Pour the omelet to cook it for a few minutes, with us the omelet is runny.
Preparation time: 10 minutes
Cooking time: 2 to 4 minutes
Number of people: 2
4 star rating: 1 review
What wine to drink with: Cep omelette
My favorite wine for this recipe: Cahors Cépage Cot noir, Merlot, Tannat
Temperature between 14 ° and 16 °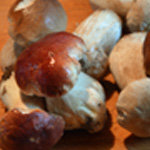 Porcini mushrooms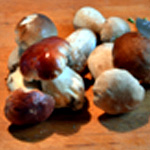 Brush the porcini mushrooms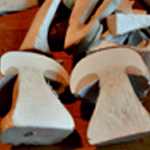 Cut the porcini mushrooms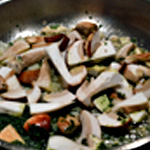 Sear the porcini mushrooms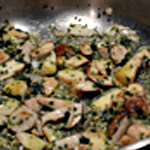 Add the parsley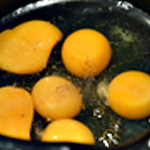 Scramble the eggs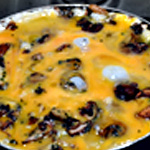 Cook the omelet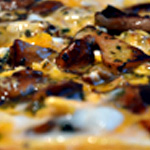 Zoom