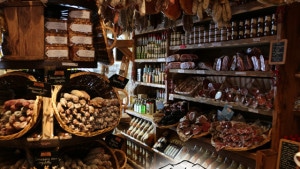 Marie Louise's refuge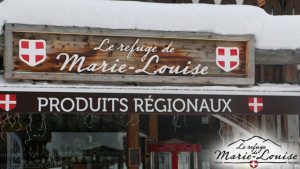 Exterior
Marie Louise's refuge, I received a surprise package last week from this Haute Savoie house, where sausages, cold meats and cheeses reign supreme. Before the pleasure of the eyes as soon as you enter the all-wood refuge, the scents call out to you, your nostrils quiver with happiness. The smoky scents of Haute Savoie blend with those of cheeses. To end this quick presentation, you will find at Marie Louise's refuge:
Medalist sausage
Sausages, cold meats, cheeses, jams, honey, preserves, wines, alcohol, groceries, packed baskets… You are at Gets in Haute Savoie at 1,200 meters above sea level. In this house where the spirit of Marie Louise Pignal, the former farmer grandmother of the valley, watches over the quality and the ancestral recipes of the valley.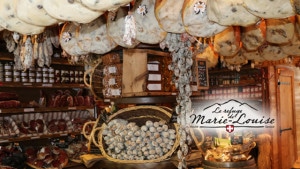 Dry hams
Of course for all those who will not have the chance to visit Marie Louise's refuge, in Les Gets or in Morzine, you can order through the online site. To come back to my package, it consisted of a silver medal sausage with beautiful colors, tasted on the day of its arrival, a Reblochon packed in a thermal envelope to protect it for the trip, another Lean dry sausage, still packed but it tempts me every day, dried porcini mushrooms already tasted on the occasion of a mushroom crust that I will present to you later.
With the Marie Louise refuge, no more problem to taste quality products from Haute Savoie, a few clicks and presto it happens to you. Mountain products, the rich culinary heritage of Haute Savoie on your table in just two clicks. Of course other articles will follow this presentation:
online recipes by the end of the year:
Morel fondue
Raclette with raw and smoked ham
Dehydrated porcini crusts
Fresh tagliatelle with light sausage and Reblochon.
Reblochon fondue with porcini mushrooms
For a discovery of the Refuge de Marie Louise.
Take advantage of a promo with cuisinemaison.net
Promo code: cuisine-15 or 15 € reduction for any purchase of 60 €
to order click here: the refuge of Marie Louise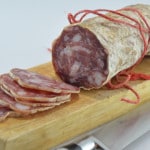 Medalist sausage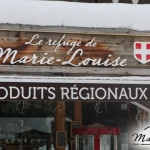 Exterior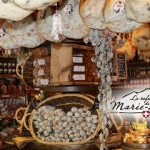 Dry hams