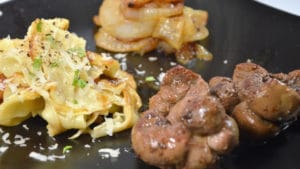 Recipe veal kidney with onions
Summary: Kidneys with Léonie are always a great moment, we are crazy about it, that's to say to you. This time, a very simple recipe to make, no cream sauce, just grilled in a little butter and olive oil for these veal kidneys with onions. If you don't know how to trim them, don't hesitate to ask your butcher to prepare them for you. Besides, butchers worthy of the name will adorn them for you. Veal kidneys with onions, the onions will remain a little crunchy, they will bring a little sweetness in this recipe. Veal kidneys are hard to find, because butchers keep them for their most demanding customers.
Veal kidneys with onions recipe for 2 people
Ingredients
1 veal kidney
½ tablespoon of olive oil
50 g butter
Salt and pepper
2 basil leaves
2 large onions
Instructions
Peel the onions, then cut into 1 cm slices, undo the rings.
Trim the veal kidney, or have it prepared by your butcher.
Cut the kidney into slices 2 cm thick.
Heat a pan with olive oil and butter.
Gently sear the onion rings, letting them brown a little.
Sear the veal kidney slices under high heat.
Season generously with salt and pepper.
Enjoy hot.
What wine to drink with: Veal kidney with onions
My favorite wine for this recipe: Margaux Cépage Sauvignon cabernet and franc, Merlot
Temperature between 15 ° and 16 °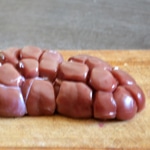 Rinse the kidney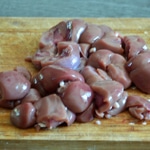 Cut the kidney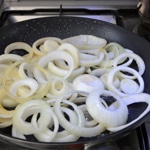 Slice the onions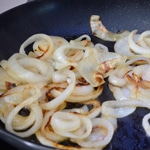 Sear the onions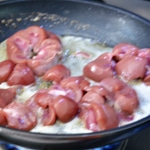 Sear the kidneys