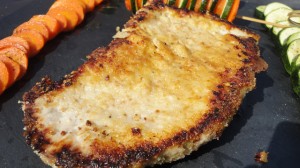 Recipe: Milanese veal cutlet
Veal cutlet breaded with Parmesan as in Italy, baked in the oven. Veal cutlet à la Milanaise souvenir from Italy, soft and very tasty, it should not leave you indifferent. Breaded veal cutlet with breadcrumbs and Parmesan cheese, to accompany a dish of spaghetti with tomatoes, I will cook it in the oven to have a nice au gratin cutlet.
Recipe ingredients
Milanese veal cutlet recipe for 2 people:
1 large veal cutlet
3 tablespoons of parmesan powder
2 tablespoons of breadcrumbs
1 pinch of gray pepper
2 eggs
Salt and pepper
Instructions
Crack the eggs into a deep plate.
Beat the eggs, salt and pepper.
Combine breadcrumbs and parmesan powder in a bowl.
Arrange this preparation in a deep plate.
Tap the veal cutlet to even out it.
Pass the veal cutlet in the egg.
Then pass the escalope in the Parmesan breadcrumbs.
Repeat once in the egg and once in the breadcrumbs.
Place your breaded cutlet in a baking dish before buttering it.
Butter the top of the cutlet with a few knobs of butter.
Bake in a hot oven without rotating heat at 200 °, for 14 minutes, be careful, depending on the thickness.
Preparation time: 20 minutes
Cooking time: 14 minutes
Number of people: 2
4 star rating: 1 review
What wine to drink with Milanese veal cutlet?
My favorite wine for this Chianti Grape variety recipe: Sangiovese, Canaliolo
Temperature between 17 ° and 19 °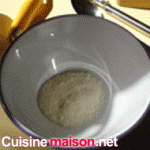 Mix breadcrumbs and Parmesan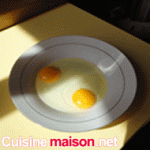 Break the eggs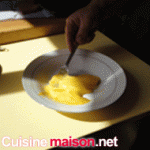 Beat the eggs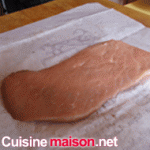 Veal cutlet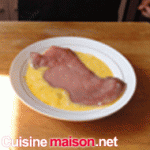 Dip in eggs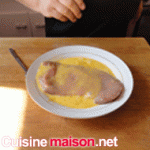 Same operation but back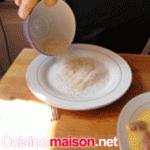 In breadcrumbs now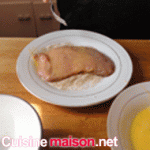 Bread in the preparation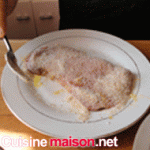 Same operation but back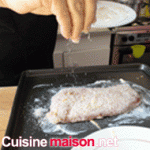 Add a little parmesan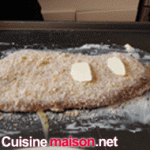 Place on a buttered baking sheet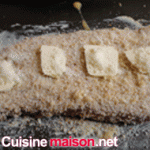 Butter the meat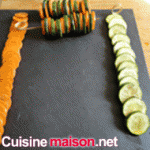 Prepare the slate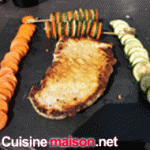 Cooked schnitzel