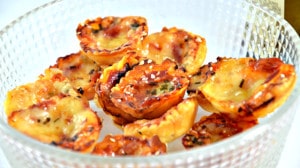 Recipe: Tomato and Comté Puff Pastry
Recipe for tomato and Comté puff pastry, to start a meal, crispy they will not resist the onslaught of the aperitif. A new variant with tomato, almost a marriage of convenience. With this recipe, the tomato will bring a little sweetness to the ardor of the Comté. I like these mini pieces for the aperitif, it's been a long time since we buy any industrial aperitif cakes. Just a few minutes to prepare, cooking takes longer than making these tomato and Comté puff pastry.
Recipe ingredients
Tomato and Comté puff pastry recipe for about 23 pieces:
1 roll of puff pastry
15 cl of tomato puree
100 g of Comté
1 tablespoon of white sesame
Instructions
Preheat the oven to 200 °, for cooking in the middle of the oven.
Take out the puff pastry 15 minutes before rolling it out.
Cut the Comté into small cubes.
Roll out the puff pastry.
Use a cookie cutter to cut the circles barely larger than the silicone impressions.
Place a circle by imprint by placing it a little at the bottom.
Pour in a teaspoon of tomato.
Place a county cube in each footprint.
Pepper generously and salt lightly.
Sprinkle the sesame seeds in the indentations.
Bake for 15 to 20 minutes and leave to brown.
Serve lukewarm but above all not hot.
Preparation time: 30 minutes
Cooking time: 20 minutes
Number of reduction: 23
4 star rating: 1 review
What wine to drink with: Tomato and Comté puff pastry
My favorite wine for this recipe: Arbois Poulsard Grape variety: Poulsard, Trousseau, Pinot noir
Temperature between 11 ° and 13 °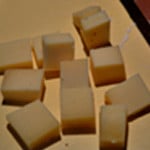 Cut the county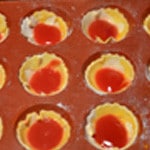 Add the tomato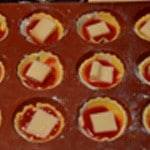 Lay the county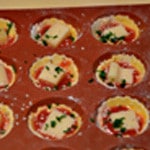 Add the chives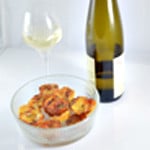 Ready