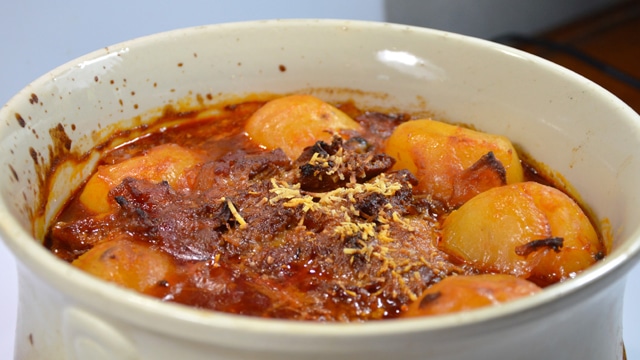 Florentine Tripe Recipe
I love tripe and this recipe from Trippa Alla Fiorentina reminds me of my holidays in Italy and their always very refined cuisine. Of course some will find that the cooking time is enormous, but I like candied tripe, which melts in the mouth and also likes them very tasty, well spiced, no need to salt or pepper the seasoning is at the top . Tripe à la Florentine, I received for the first time Gilberte who corrects the recipes of the site and her husband Bernard. For that you have to taste them as you go through the stages, me at 2 o'clock last night I was dripping and to tell you all this morning at 5 o'clock (early night) I was enjoying a small plate of my candied tripe at will, I love these Florentine style guts
Florentine Tripe Recipe for 6 people
Ingredients :
1 kg of double fat to blanch (or precooked)
For this recipe my double fat was blanched by the butcher.
1 calf's foot, cut in half
400g fresh peeled (or fresh) tomatoes
3 tablespoon extra virgin olive oil
40g butter
1 small branch of fresh celery
2 carrots
1 bunch of small red onions
3 cloves of garlic
10 basil leaves
2 bay leaves
90 g freshly grated Parmesan
25 cl of dry white wine
1/2 liter of meat broth (or bouillon cube)
salt and pepper to taste
Instructions
:
Preheat the oven to 180 °
Wash 3 stalks of celery and the basil.
Carefully wash off the double fat.
Blanch the tripe in boiling salted water for 30 minutes.
Cool the pieces of meat under the tap and drain them.
Wipe up with absorbent paper and cut them into thin strips.
Clean and peel the carrots, cut them into slices.
Slice the stalk of celery.
Peel the garlic and onion, then roughly chop them.
Heat a cast iron casserole dish.
Pour in the oil.
Add the carrots, celery, onions and garlic.
Stir well, sprinkle with white wine and let the white wine reduce dry.
Add the broth as soon as the wine has evaporated.
Add the double fat.
Add the peeled tomatoes.
Sprinkle with half the Parmesan.
Bake overnight, for me 4.15 hours.
Add hot broth if necessary.
Let cool once the tripe is cooked in the oven.
The next day.
Finely chop the basil leaves, then add them to the tripe.
Pour the tripe into a baking dish.
Sprinkle with the rest of the Parmesan.
Add the flake butter. And sprinkle with the rest of the Parmesan.
Place in the hot oven for 15 minutes.
Preparation time: 60 minutes
Cooking time: 4 hours 15 minutes
Number of people: 6
4 star rating: 1 review
Always a great moment when I make tripe, here a tripe recipe in Florentine or Trippa alla Fiorentina fashion, I like them candied
What wine to drink with: Tripe à la Florentine
My favorite wine for this recipe Arnéis blanc du piedmont Grapes: Arnéis
Temperature between 8 ° and 10 °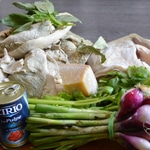 Ingredients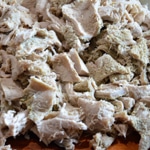 Cut the double fat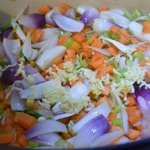 Add the vegetables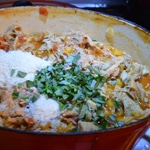 Add basil and parmesan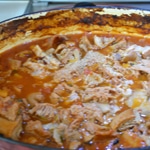 They are cooked<img src="/wp-content/uploads/2021/09/4547456525689093137.jpg" class="aligncenter"