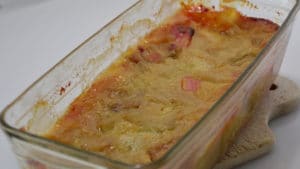 Rhubarb Clafoutis Recipe
Rhubarb is the height of the season, it is often abundant in the gardens, here I offer you a deliciously tangy rhubarb clafoutis. This dessert is always welcome with a beautiful sun. I like to caramelize the rhubarb lightly, it develops its fragrance and makes it a little less acidic. Rhubarb clafoutis an easy recipe to make, you can prepare it a day in advance, it will be tastier. You still have to take care to remove the threads by peeling meticulously.
Rhubarb clafoutis recipe for 6 people
Ingredients :
5 eggs
60 gr of flour
150 gr of powdered sugar
1 pinch of salt
20 cl liter of milk
20 cl of fluid cream
90 gr of butter
800 g rhubarb
1 sachet of vanilla sugar
Instructions
Preheat the oven to 200 °
Peel the rhubarb, then slice it.
Heat a pan with 25 g of butter.
Throw the rhubarb into the hot butter.
Simmer for a few minutes and add the sugar at the end.
Let lightly caramelize.
Beat the eggs with the sugar.
Add the sifted flour in rain without stopping mixing, until the mixture is very smooth.
Add the cream and then the milk.
Butter your clay mold with 10 g of butter.
Fill the mold with the preparation.
Sprinkle the dish with the rest of the butter
Bake in a hot oven at 200 °, on the lowest rack of the oven for 10 minutes.
Lower the oven to 180 ° and finish cooking for 40 minutes.
Take out of the oven at the end of cooking and distribute the vanilla sugar over the clafoutis.
Enjoy lukewarm.
Preparation time: 20 minutes
Cooking time: 50 minutes
Number of people: 6
4 star rating: 1 review
What wine to drink with: Rhubarb clafoutis
My favorite wine for this recipe Clairette de Die Grapes Clairette and white muscat
Temperature between 7 ° and 8 °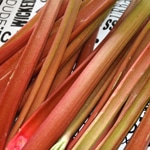 Peel the rhubarb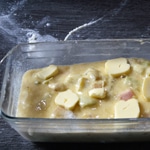 Place dab of butter