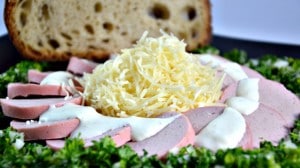 Recipe: Mixed salad
Recipe Mixed salad or Alsatian salad, I like this generous salad, I often choose it when I am at a restaurant in Alsace. It was about time I gave my daughter a taste of this easy-to-make starter. We love the Gruyère here in this recipe it's generous, accompanied by a little white sauce and a nice meat sausage. Nothing could be easier and faster as a starter than to make a mixed salad.
Recipe ingredients
Mixed salad recipe for 3 people:
500 g of cervelas
300 g grated cheese
1 onion
15 sprigs of parsley
9 tablespoons of liquid cream
1 teaspoon of sherry vinegar
½ teaspoon of mustard
Salt and pepper
A rectification at the request of Francine who will recognize herself, to stay in the tradition you must use, Melfort Alsatian vinegar
Instructions
Remove the skin from the cervelas, then cut into very even slices.
Rinse the parsley, then dry it and finally the stalk.
Peel the onion, then finely chop it with the parsley.
Prepare the white sauce by adding the cream in a bowl.
Pour in the cream and vinegar.
Salt and pepper
Mix, taste and rectify if necessary.
Place the grated cheese in a pastry ring.
Arrange the cervelas around the circle.
Add the parsley and onions.
Cover with the white sauce and you're done.
Easy, no and you'll see the kids love it.
Preparation time: 15 minutes
Cooking time: 0 minutes
Number of people: 3
4 star rating: 1 review
What wine to drink with: Mixed salad
My favorite wine for this recipe: Riesling Grape Riesling
Temperature between 08 ° and 10 °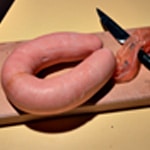 Remove the skin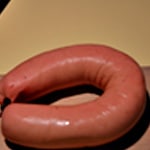 Cervelas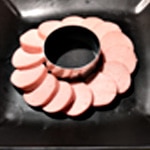 Slice the cervelat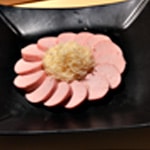 Add cheese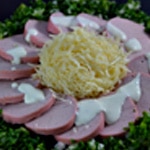 Zoom