Mojito Tiramisu Recipe
I already made this recipe a few months ago, but I missed the photo, so a great opportunity to redo and especially to taste this Tiramisu Mojito style. Be careful, I have deliberately forced the rum, because these verrines were made for a party of friends who came to water a beautiful house, it's up to you but you can halve the amount of rum, or not at all. It's an ultra fresh dessert, which I will renew during the hot weather of this summer, in my opinion an almost iced Mojito-style Tiramisu in the evening on the terrace, it must be heart-rending. What is practical with this Mojito-style Tiramisu, c is that you can prepare it the day before or even two days before, the mascarpone perfumes even more with time. I love working with mascarpone more and more, I love its texture and it is so easily perfumed.
Mojito-style Tiramisu recipe for 15 people
Ingredients
750 g of mascarpone
10 cl of white rum
10 cl of cane sugar syrup
10 cl of lime
5 cl of water
12 eggs
200 g sugar
40 spoon cookies
1 lime
30 mint leaves
Instructions
Wash then dry the mint, reserve 15 mint leaves, the most beautiful, for decoration.
Finely chop the rest of the mint with a knife.
Mix the rum, lime juice and water (for the rum, I voluntarily forced on the rum, it's up to you)
Dip cookies briefly in rum mixture.
Line the bottom of the molds with 1 layer of cookies.
Add a cookie cut in half, allow it to protrude a little, just for fun.
Beat the yolks with the sugars and whiten them. Add the chopped mint.
Add the mascarpone and continue beating.
Add the rest of the rum mixture, mix.
Beat the egg whites.
Incorporate the egg whites with the mascarpone preparation.
Pour into the verrines without touching the edges.
Grate the lime zest over the verrines.
Place a mint leaf per verrine.
Refrigerate at least 24 hours
Preparation time: 30 minutes
Cooking time: 0 minutes
Number of people: 15
4 star rating: 1reviews
Here is a dessert that takes your breath away, I imagine it in the middle of summer in the shade of a parasol with a group of friends. For this recipe I had to force a little on the white rum.
What wine to drink with: Tiramisu Mojito Recipe
My favorite wine for this Loupiac Grape variety recipe: Sémillon, Muscadelle, sauvignon blanc,
Temperature between 06 ° and 08 °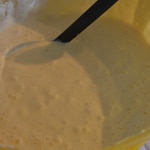 Mascarpone and lime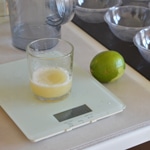 Squeeze the juice from the lime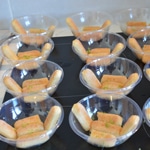 Soak the boudoir with white rum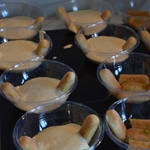 Pour the mascarpone mixture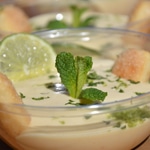 Zoom