Recipe: Baked monkfish
Recipe for monkfish in the oven with these small vegetables, a fairly easy preparation with cooking in the oven, we like fish at home. Monkfish remains a rather expensive fish to buy, here I worked with portioned and frozen monkfish, they are really more affordable in terms of price. With this recipe for monkfish in the oven, the fish and the vegetables cook together, I particularly liked the scent of the candied garlic placed on the monkfish. I have used individual earthenware dishes, it is practical and it stays hot for a really long time. Just a drizzle of extra virgin olive oil for the fat, you can add a squeeze of lemon, if you want to flavor your monkfish even more in the oven.
Recipe ingredients
Monkfish recipe in the oven for 5 people:
5 portion of monkfish tails
5 candied garlic
1 kg of ratte
1 fennel
1 stalk of celery
250 gr of cherry tomato
1 small zucchini
1 teaspoon of Provence herbs
1 teaspoon ground pepper
5 tablespoons of Sylvaner
500 g of coarse salt
Instructions
Preheat the oven to 180 °
Rub the fingerlings with the coarse salt, then rinse with water.
Lightly butter the earthenware molds.
Slice the fingerlings into rings then divide them among the dishes.
Finely chop the fennel and celery then add them to the potatoes.
Rinse the zucchini then cut into four and then into pieces, then add it.
Drizzle with a little olive oil.
Place in a hot oven for 15 minutes.
Place the monkfish tails in each dish.
Sprinkle with the herbs of Provence.
Loot the peppercorns.
Salt and pepper generously.
Place a garlic confit on each monkfish.
Pour in the white wine.
Bake for 15 minutes.
Preparation time: 10 minutes
Cooking time: 15 minutes
Number of people: 6
5 star rating: 1 review
What wine to drink with: Monkfish in the oven
My favorite wine for this recipe: Chablis 1 er cru Cépage Savagnin
Temperature between 08 ° and 10 °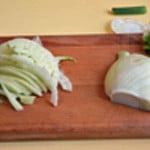 Slice the fennels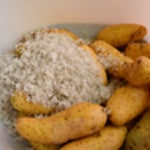 Rub the potatoes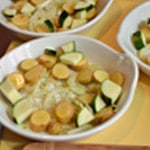 Add the vegetables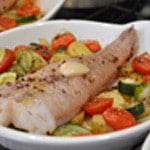 Lay the monkfish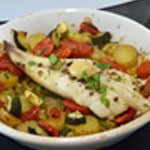 Zoom