Morel Crust with Morels Recipe
Summary: Morel crusts here is a recipe for morels with crème fraîche and morels, a recipe that comes directly from Franche Comté, where morels are abundant in any case, for those who know the spots. Morel crust, a nice starter to please you. Be careful when cooking morels, let them cook well because morels can be toxic if they are not cooked enough. The cleaning is also quite long, but it is important to remove all the grains of sand, because it is really unpleasant to the bite.
Morel Crust Recipe for 4 people
Ingredients :
120 g of dried morels
60 cl of liquid fresh cream
22 g butter
60 g shallots
20 g of garlic
25 cl of Pinot gris
Instruction:
Cover the morels with hot water.
Leave them swollen, reserve the first soaking water.
Cut the morels in half with a pair of scissors.
Wash your morels in a large container full of water.
Stir your morels with your hand to bring down the pebbles and this as long as you feel sand in the
bottom of your container.
Heat the butter with the shallots when they have colored.
Add the garlic and sweat it.
Sear the morels in your pan for 10 minutes then add the wine.
Decant the water from the morels.
Add a little morels and simmer by your fire.
Add the crème fraîche and reduce on the heat.
A dish for Christmas, a very creamy crust with morels of beautiful morels. Always a pleasure on the table.
Preparation time: 20 minutes
Cooking time: 60 minutes
Number of people: 4
4 star rating: 1 review
What wine to drink with: Morel crust
My favorite wine for this recipe: Alsace pinot gris Grapes Pinot gris
Temperature between 08 ° and 10 °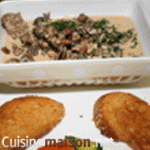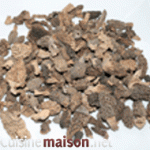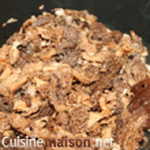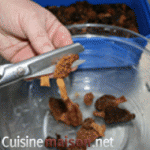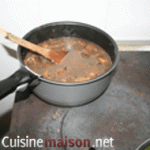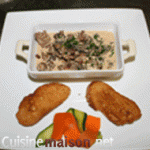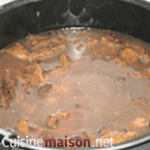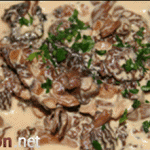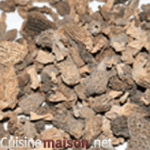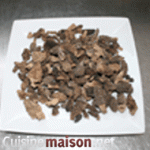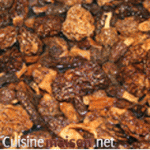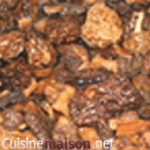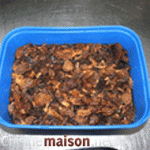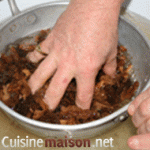 My favorite wine for this recipe Arbois (white) Grape varieties: ( Savagnin)
Temperature between 13 ° and 14 °
</p