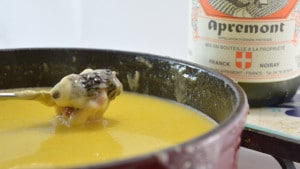 Recipe: Morel fondue
Instructions
Morel fondue recipe, I had the pleasure of receiving from the Refuge de Marie Louise, a complete kit to make a morel fondue including Savoie wine. You might as well say that at home everyone wanted to taste this fondue. It is true that we are fond of this kind of meal. Nothing more convivial than a cheese fondue, it melts gently on the table with friends during the aperitif. Indeed it must be melted directly on the alcohol stove. It should never boil and melt gently integrating white wine and kirch. Ideal for this kind of fondue is a good Levin bread with a generous crust and a little heavy crumb. Watch out for the pledge for those who drop their piece of bread in the morel fondue. Impossible not to taste the cheese received, all ready already skimmed. I did not resist, too greedy and the taste of cheese a delight …….
Recipe ingredients
Morel fondue recipe for 4 people:
1 kit for 4 people from the Refuge de Marie Louise of 800 gr
(1/3 Beaufort summer, 1/3 Old count, 1/3 Gruyère de Savoie)
3 turns of nutmeg
2 cloves garlic
1 70 cl bottle of Apremont Domaine NOIRAY du Refuge de Marie Louise
15 gr of butter
30 gr of dried morels from Refuge de Marie Louise
1 Egg and Pepper
Instruction
Dip the morels in a bowl of lukewarm water.
Peel the garlic then cut in half.
Rub the pot with the garlic cut in half.
Squeeze the morels.
Cut the morels into small pieces, keeping the nicest ones.
Heat the fondue pot with the butter.
Discard the morels and sear them for a few minutes, remove the fondue pot from the heat, let it cool a little.
Pour the cheese off the heat.
Wet with wine, and kirch (optional)
Add 3 turns of ground pepper
Grate ¼ of a nutmeg.
Place the fondue pot on a support and gently melt the cheese, stirring constantly. The time to melt the cheese allows you to drink the aperitif, to enjoy the guests.
Prepare the bread by cutting it into slices each one can then cut the bread to the desired size (as in Switzerland).
Once the fondue is eaten, you can crack an egg and taste the nun (crust formed at the bottom of your fondue pot).
Preparation time: 15 minutes
Cooking time: 30 minutes
Number of people: 4
4 star rating: 1 review
What wine to drink with: Morel fondue
My favorite wine for this recipe: Savoie Apremont Chardonay grape, Pinot blanc, Savagnin blanc
Temperature between 8 ° and 10 °
Take advantage of a promo with cuisinemaison.net
Promo code: cuisine-15 or 15 € reduction for any purchase from 60 € at Refuge de Marie Louise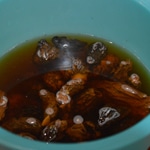 Soak the morels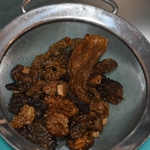 Filter the morels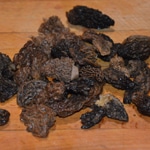 Mince the morels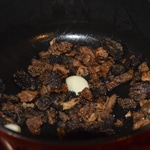 Sear the morels
Unpack the kit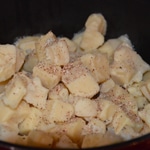 Grate the nutmeg directly over the cheese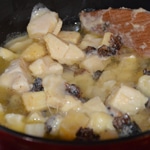 Gently melt in the wine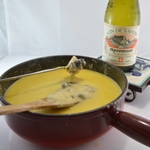 Zoom<img src="/wp-content/uploads/2021/09/9122519951244832819.jpg" class="aligncenter"