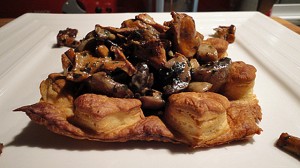 Recipe: Fricassee of mushrooms
Fricassee of fresh mushrooms, here is autumn the mushrooms are abundant in our forests the Paris mushrooms will be cooked in a pan, quickly just that they throw a little their water … For cooking the oyster mushrooms it will be the same method, finally always the same for cooking chanterelles. Yellow chanterelles are my favorite mushrooms
Recipe ingredients
Mushroom fricassee recipe for 4 people:
150 g button mushrooms
100 g oyster mushrooms
150g chanterelles
60 g butter
2 cloves garlic
½ bunch of parsley
400 g of puff pastry.
Salt and pepper.
Instructions
Roll out the puff pastry in the shape of a rectangle.
Cut a margin of 2 cm without the edge of your puff pastry, without completely cutting the dough.
Form your decorations into puff pastry then glue them with cold water.
Prick the bottom of your pie with a fork.
Clean the mushrooms with a brush without rinsing them in water.
Cut off the foot to remove the soil.
Slice the button mushrooms in four.
Heat a pan with a thick bottom with 20 g of butter and a tablespoon of olive oil.
Sear the button mushrooms, stirring regularly with a wooden spoon, 4 to 5 minutes the mushroom should remain firm.
Reserve the button mushrooms and repeat the operation with the oyster mushrooms.
Keep the oyster mushrooms warm with the button mushrooms.
Rinse the bunch of parsley under running water, then wipe it dry with food paper.
Peel and mince the garlic with the parsley.
Add the rest of the butter and olive oil to the pan, then sear the chanterelles for 5 to 6 minutes.
Mix your preparation with salt and pepper.
Place your mushroom preparation on the puff pastry.
Heat your oven to 200 °, then cook your preparation for 20 to 30 minutes at the bottom of the oven, just to raise the dough.
Preparation time: 30 minutes
Cooking time: 4 to 5 minutes
Number of people: 4
4 star rating: 1 review
What wine to drink with: Fricassee of mushrooms
My favorite wine for this recipe Alsace Pinot gris Grape variety: pinot gris
Temperature between 11 ° and 12 °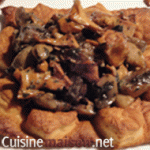 Presentation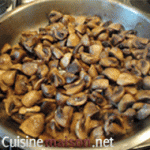 Mushrooms of Paris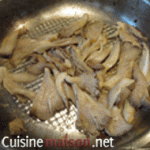 Oyster mushrooms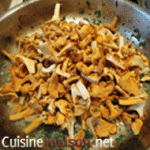 Chanterelles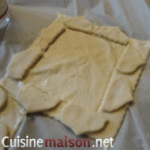 The puff pastry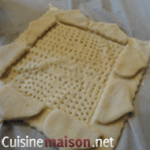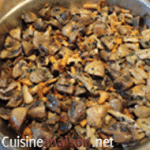 All mushrooms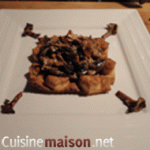 Friicassee of mushrooms on the plate