<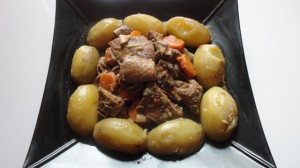 Recipe: Tripe
Tripe recipe, a variation of Caen-style tripe or tripe in white wine, here I cooked them with a hint of balsamic vinegar. Blanch the tripe 45 minutes to 1 hour in a broth. White wine tripe recipe. Cooking tripe in the oven. With the tripe, steamed potatoes or as in this tripe recipe cook in the casserole dish. Balsamic vinegar and white wine for this tripe recipe.
Recipe ingredients
Tripe recipe for 8 people:
2 kg of tripe
1 calf's foot cut in half,
3 bards to cover your casserole dish
300 g bacon
1 tablespoon of oil
3 carrots
3 onions
3 leek whites
3 cloves of garlic
2 teaspoons of coarse salt
1 teaspoon ground cumin
1 teaspoon of 4 spices
½ teaspoon ground cloves
½ teaspoon of gray pepper
2 tablespoons of balsamic vinegar
1 tablespoon of coarse salt
1 tablespoon of peppercorns
0.75 of Riesling
1 liter of water
1.2 potato agate
Instructions
Rinse the tripe with plenty of water.
Fill a large Dutch oven with cold water (if your tripe is not blanched).
Add a tablespoon of peppercorns and a tablespoon of coarse salt.
Place the tripe in cold water.
Leave to cook for 1 hour 45 minutes to 2 hours.
Cut the tripe into large strips as soon as they are cooled …
Clean and peel and slice the carrots,
Slice the leeks then cut them into slices.
Peel the onion, the shallots and the 3 cloves of garlic.
Coarsely mince.
Pour the oil into an oven-safe cast iron casserole dish and allow to heat.
Brown the bacon cut into lardons, then the carrots, leeks, onions and garlic.
Stir with a wooden spoon, add chopped garlic, thyme, bay leaf.
Add the tripe and the calf's foot. Stir well, sprinkle with white wine and water, the tripe should be covered with liquid.
Pour in the two tablespoons of balsamic vinegar.
Season with salt and pepper.
Add all the spices.
Add the calf's foot.
Cover with bacon bards, cover the casserole dish.
Pass cold for gentle cooking at 150 °
Cook overnight for at least 5 hours.
Add the potatoes on the bacon bard and cook for another 2h30.
Let cool in the oven.
In the morning, remove the fat from the juice and serve hot with potatoes.
Preparation time: 40 minutes
Cooking time: 5 hour (s)
Number of people: 8
4 star rating: 1 review
What wine to drink with Tripe
My favorite wine for this Riesling Grape variety recipe: Riesling
Temperature between 7 ° and 8 °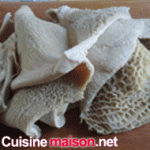 Blanch the tripe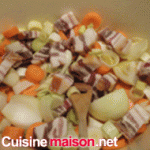 To cut the vegetables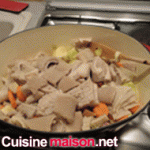 Add the tripe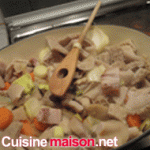 Stir and spice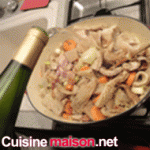 Pour the wine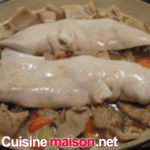 Add the calf's foot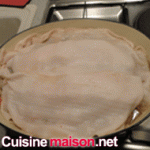 Cover with bard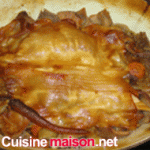 Cooked tripe<img src="/wp-content/uploads/2021/09/2286346494769992306.jpg" class="aligncenter"