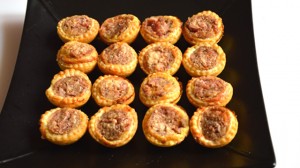 Recipe: Andouillette aperitif
Andouillette aperitif recipe, I like the salty aperitif here, a recipe based on mustard and white wine, all with a puff pastry. Andouillette a specialty of French gastronomy, at home we taste them all year round. Andouillette Lyonnaise or Troyes I like them both and alternate regularly, baking in the oven or in the pan and of course on the barbecue, the andouillette is suitable for all types of cooking.
Recipe ingredients
Andouillette aperitif recipe for 25 mini tarts
4 tablespoons of fluid cream
½ tablespoon of mascarpone
1 tablespoon of mustard
1 tablespoon of white wine
1 roll of puff pastry
1 tablespoon of grated Parmesan
Instructions
Remove the skin from the andouillettes, then slice them into slices.
Mix the mustard, cream and white wine in a bowl.
Add the mascarpone, salt and pepper.
Unroll the very cold puff pastry.
Cut the puff pastry rounds with a cookie cutter.
Place each round of puff pastry in the mold with imprints.
Prick each tart shell with a fork.
Pour the preparation on each shortbread.
Carefully place a slice of andouillette per imprint.
Sprinkle parmesan powder on each andouillette.
Place in a hot oven at 200 ° for 20 minutes, low position of the oven.
Number of tarelets: 24 mini
Cooking time: 20 minutes
4 star rating: 1 review
What wine to drink with: Aperitif andouillette
My favorite wine for this recipe: Beaujolais blanc Cépage Chardonnay
Temperature between 08 ° and 10 °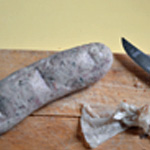 Remove the skin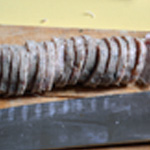 Slice regularly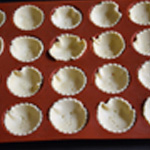 Cut the puff pastry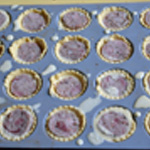 Fill the molds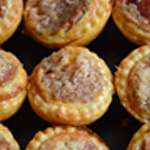 zoom