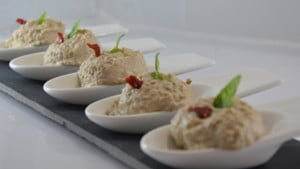 Pacific Pink Salmon Rillettes Recipe
Instructions
Recipe for Pacific salmon rillettes, an ultra-quick recipe ideal for starting a meal, I served them in a glass for the aperitif. Drain your rillettes well, so that they are well seasoned, it is important for the success of the recipe. Pacific pink salmon rillettes, no toast each guest makes his or her more or less generous toast with toast, it is very convivial and in addition it saves time. I take great pleasure in making all these fish rillettes. Canned fish are perfect for making this kind of rillettes. They can be prepared just at the last minute, for surprise visits. Pink Pacific salmon rillettes, I used my ice cream scoop to make nice little spheres of rillettes on my white spoons.
Recipe ingredients:
Pacific pink salmon rillettes recipe for 8 people:
2 Cans of Pacific pink salmon, i.e. 310 gr
90 gr of Saint Môret
1 small shallot
2 drops of Tabasco
1 knife tip of ground cardamom
1 clove knife tip
1 knife tip of ground gray pepper
2 tablespoons of lime
1 teaspoon of fine salt
Instructions
Drain the canned salmon.
Remove the skin and all the edges.
Coarsely strip the salmon.
Peel and roughly chop the shallot.
Add the fish and shallot to the bowl of the blender.
Mix just one turn.
Add the Saint Môret.
Mix one more turn.
Add the spices and salt.
Mix one turn.
Pour in the lime juice.
Mix and drip, adjust the seasoning if necessary.
Leave to rest in the refrigerator for at least 2 hours.
Preparation time: 10 minutes
Cooking time: 0 minute (s)
Number of people: 8
4 star rating: 1 review
What wine to drink with: Pacific pink salmon rillettes
My favorite wine for this recipe: Sylvaner old vine sylvaner grape
Temperature between 08 ° and 10 °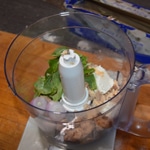 Add all the ingredients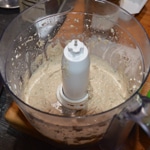 Mixer