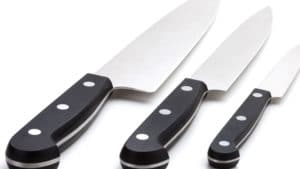 Sharpen knives
Professional sharpening is enough to get you hooked!
Sharpening knives, always a dilemma! I was lucky enough to use a company in Vesoul to sharpen my knives. The only problem was that he kept my knives for two or three days depending on their availability. You can imagine the difficulties I encountered without my favorite knives!
With Digital Effervescence, which created the "cooking house" site, I was offered to test a professional Affilella machine. Italian society, we can only be motivated when we know the importance that Italians place in gastronomy.
Nothing but happiness, my knives are always ready and meet every need, it's almost a dream. In addition, this machine is so easy to use that anyone could sharpen their knives.
It was the CEO of MVM, with his Affilella Junior sharpening machine, who came in person from Correggio (between Parma and Bologna) to give me a demonstration. The current went immediately with Marco, with his impeccable French and especially this Italian accent. In presenting the machine to us, he insisted directly on the importance of the sharpening angle. Indeed, the lower the angle, the sharper the cutting edge. In order to be even more efficient, the machine is equipped with two bases. Each side of the blade in its place, it suffices to reverse the machine by changing the face for the knife. With its Borazon wheel, it is specialized in sharpening kitchen or butcher knives. It is equipped with a guide specially designed for knives (30 ° angle) and a second guide for scissors (45 ° angle). Indeed kitchen shears are often present for cutting poultry for example. You will thus respect the original machining of your knives.
But I went even further in the demonstration, I made an appointment with my favorite butcher in Vesoul, the Charton butcher, famous in our region, in order to test the Affilella machine on a large scale. Florian, one of the butchers, instantly adopted the machine for its speed and ease of use. All butcher's knives have been tested. It only remains to pass them a little once with white stone and the steels will regain their brilliance from the start.
I will take advantage of this sharpening to put you some photos that we had made during this sharpening, in another article.
Watch out for your fingers, the sharpening of your knives will be merciless!