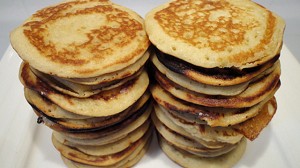 Recipe: Pancakes
Pancake recipe, it's already been a few weeks that my daughter asked me for pancakes for her breakfast, here it is. I will start again because it allows for a serious breakfast and of course no need to fight, the pancakes are eaten at an infernal rate. The batter looks strangely like our pancake batter. For Americans pancakes have the same value as pancakes for us.
Recipe ingredients
Pancake recipe for: 41 pancakes
250g of flour
75 g sugar
50 g butter
2 eggs
40 cl of whole milk
1 sachet baking powder
1 sachet of vanilla sugar
1 pinch of salt
Instructions
Scramble the eggs.
Add the milk to the eggs.
Melt the butter and add it to the egg preparation.
Mix the flour, baking powder, vanilla sugar and sugar.
Add to the egg mixture and mix together.
Let your dough rest like a pancake batter in the fridge.
Bake your pancakes.
When you cook the pancakes, small air bubbles will be created.
When they burst you can turn them over.
Preparation time: 20 minutes
Cooking time: 3 to 4 minutes
Number of rooms: 41
4 star rating: 1 review
What wine to drink with: pancakes
My favorite wine for this recipe: Muscadet val de Loire Grape variety Melon de bourgogne
Temperature between 07 ° and 09 °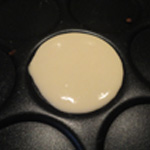 Pour the dough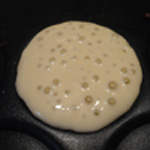 Bubbles form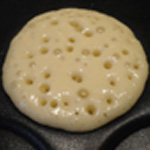 The bubbles burst, they must be turned over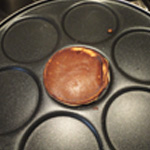 Baked pancake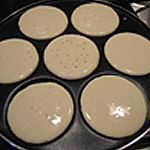 Pancake pan