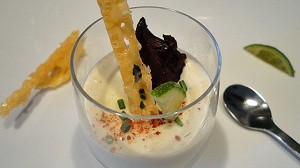 Recipe: Pana cotta with Saint Agur
Saint Agur pana cotta recipe, a Saint Agur recipe for a starter with character, you are going to love this starter. We tasted it during the Easter holidays, a lot of people at home like every year. Professional photographers available during this long weekend, so even more decoration, I loved this kitchen with 10 hands, what happiness. I like the taste of Saint Agur and its texture.
Recipe ingredients
Pana cotta Saint Agur recipe 4 people:
25 cl of fluid cream
120 g of Saint Agur
4 slices of smoked duck breast
0.5 g of agar-agar
1 teaspoon of pine nuts
2 lime slices
50 g slices of duck breast
50 g of Parmesan for the sticks
Instructions
Heat the cream.
Add the agar-agar and let it boil for one minute.
Place the slices of duck breast on a baking sheet.
Grill the duck breast in a hot oven at 210 ° for a few minutes.
Cut the Saint Agur into cubes, then place it in the crème brûlée.
Let the cheese melt, then wait half an hour before pouring into your verrines.
Place the verrines in the refrigerator for one hour.
Prick the duck breasts in the verrines.
Cut the lime slice into quarters.
Place a lemon slice in each verrine.
Fill a stick mold with powdered Parmesan, like the recipe here.
Place the Parmesan sticks in each verrine.
Serve well chilled.
Preparation time: 20 minutes
Cooking time: 25 minutes
Number of people: 4
4 star rating: 1 review
What wine to drink with: Pana cotta saint Agur.
My favorite wine for this recipe: Côte du Rhône rouge Valréas Grape Grenache, Syrah, Cinsault
Temperature between 17 ° and 18 °
Thanks to Thibaut and Janos for the wonderful photos, memory of a long weekend at Easter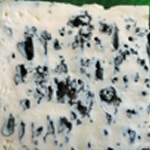 St Agur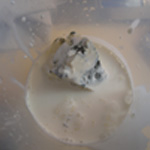 Melt in the cream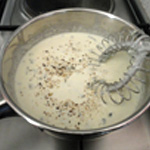 Add the agar agar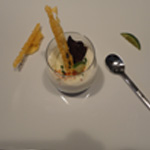 Parmesan stick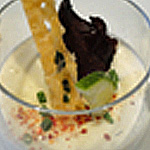 Zoom