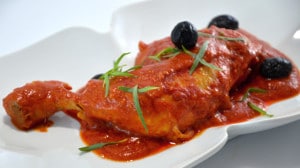 Recipe: Peanut Butter Chicken
Peanut butter chicken recipe, here is a recipe that I found on the site of a friend, Jenny from the Girlyanddélicious site. What I particularly liked is that it's a new recipe that you don't see every day, especially since I always have peanut butter in my fridge. Taste different with this peanut butter chicken, the girls loved this sauce. Without changing the ingredients, I modified the recipe a little by adding white wine, so that the tomato paste does not suffocate the other ingredients, I only had chicken thighs the next time I will do as Jenny . A nice easy recipe with this peanut butter chicken, ready in 10 minutes and then just cooking.
Recipe ingredients
Peanut Butter Chicken Recipe for 4 people:
4 chicken thighs
25 cl of chicken stock
25 cl of Riesling
70 gr of tomato paste
½ teaspoon of chili puree
2 tablespoons of peanut butter
10 gr of fresh ginger
4 sprigs of tarragon
1 tablespoon of olive oil
Instructions
Rinse the chicken thighs, then dry with food paper.
Pass the tarragon under the tap, then dry with food paper.
Pour the spoonful of olive oil into a casserole dish.
Sear the chicken thighs, letting them brown well.
Dissolve the tomato paste with the chicken broth, then pour into the casserole dish.
Cook for about fifteen minutes with the lid on.
Grate the ginger directly over the cooking chicken.
Mix the chilli puree with the wine.
Pour over the chicken and mix the sauce.
Leave to cook for another 20 minutes, watching the cooking and without the cover.
Add the tarragon just before serving.
Preparation time: 15 minutes
Cooking time: 35 minute (s)
Number of people: 4
4 star rating: 1 review
What wine to drink with: Peanut Butter Chicken
My favorite wine for this recipe: Riesling grape Riesling
Temperature between 08 ° and 10 °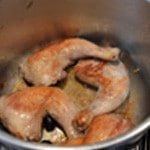 Sear the chicken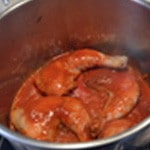 Add the tomato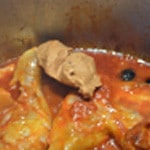 Simmer with the lid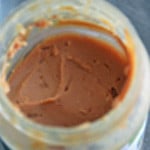 Add the butter during cooking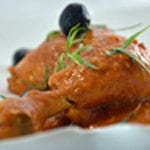 Zoom