Summary : Spring vegetables, here it is with the arrival of this new season and the end of the frosts. I like this time. It is also an opportunity for us to savor all the vegetables that emerge on the market shelves, they are generous and abundant. Spring vegetables to accompany a nice roast beef, with my two friends who spent a weekend at home, thank you for this moment Elsa and Séverine. I just forgot the spring onions, they would have had their place in this recipe for spring vegetables. Spring Vegetable Recipe for People.
Ingredients
600 gr of green asparagus in 5 parts
600 gr of shelled peas
250 gr of sweet peas
2 cloves garlic
½ lettuce
2 tablespoons of olive oil
25 gr of butter
5 cl of veal juice
1 lemon
Salt and pepper
Instructions
Cut the white part of the green asparagus, which is a bit tough.
Cut in 2 or 3 then lengthwise
Cut the snow peas at an angle
Shell the peas
Boil a large volume of salted water.
Cook the green asparagus for 1 minute, then cool them in ice water.
Cook the peas for 1 minute and the snow peas for 30 seconds, cooling each time in ice water.
Drain the vegetables.
Heat the oil in a sauté pan.
Add the crushed garlic and butter.
Froth the butter, then add the vegetables.
Pour in the veal juice.
Cook for a few minutes without overcooking the vegetables.
Off the heat, add the lemon zest.
Preparation time: 20 minutes
Cooking time: 10 minutes
Number of people: 5
4 star rating: 1reviews
What wine to drink with: Spring vegetables
My favorite wine for this recipe: Auxey-Duresse Grapes Chardonnay
Temperature between 12 ° and 14 °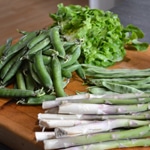 Slice the vegetables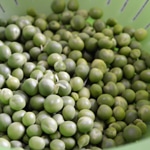 Shell the peas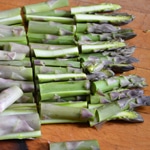 Slice the asparagus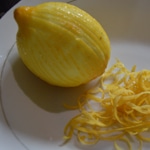 Zest the lemon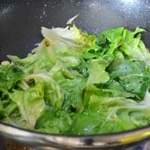 The lettuce