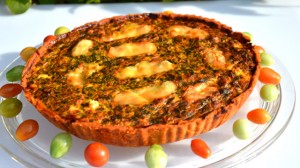 Recipe: Spinach and chorizo pie
Spinach and chorizo tart recipe, for an evening meal served with a small green salad. I finished all the leftovers I had in my fridge, we had a blast. I like this scented shortcrust pastry with paprika, a well colored paste with a good taste. A way of consuming spinach for the most recalcitrant, here they are well almost invisible. On the other hand, the chorizo does not go unnoticed with its flavor and the coloring of the pie. Tonight it's party time at home, we love chorizo, it's not possible we must have Spanish blood …
Recipe ingredients
Spinach and chorizo tart recipe for 8 people:
1 leek
1 sweet chorizo
100 gr of fresh goat cheese
100 gr of heavy cream
3 tablespoons of creamed spinach.
2 eggs
1 pinch of ginger
1 teaspoon of colombo
60 g of Saint Nectaire
Instructions
Remove the skin from the chorizo, then mix finely.
Peel then slice the white leeks into slices.
Rinse the leek slices with water.
Brown the leeks in a pan without coloring them.
Cut the goat cheese into small cubes and mix with the hot leeks, but off the heat.
Add the spinach to the cream.
Sprinkle the colombo
Salt and pepper.
Break the eggs and incorporate them into the preparation, set aside in the refrigerator.
Mix the flours with the paprika, ginger, salt and Parmesan.
Incorporate the butter cut into small cubes.
Rout with your hands without kneading the dough so that it keeps its shortbread side.
Reserve ½ hour in the refrigerator.
Spread the tart out on a sheet of cling film.
Use another sheet to roll out the dough.
Butter then flour the pie plate, then slide the dough into the baking sheet.
Pour the preparation over the shortbread.
Thinly slice the Saint Nectaire.
Gently place the slices of St Nectaire on the tart
Bake in a hot oven at 200 ° for 35 minutes, at the bottom of the oven.
Preparation time: 20 minutes
Cooking time: 30 minutes
Number of people: 8
4 star rating: 1 review
What wine to drink with: Spinach and chorizo tart
My favorite wine for this recipe: Cahors Cépage Tannât, Merlot, Black Côt
Temperature between 14 ° and 16 °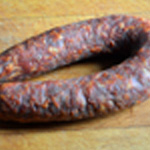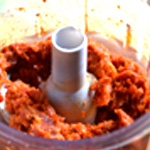 Mix the chorizo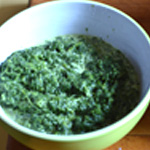 Lightly cream the spinach
Mix the ingredients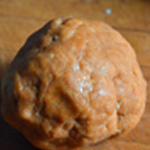 Prepare the dough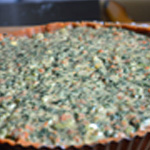 Even out the dough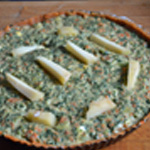 Slice the st Nectaire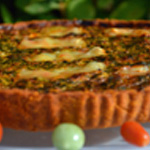 Zoom