Peppers in olive oil recipe
My son loves peppers, as he was there this weekend it was time to make this peppers in olive oil recipe. I had tasted these peppers in olive oil in a restaurant in the south of France, it seems to me that they were in the historic district of Nice, very close to the liberation market. I had kept an unforgettable memory. Peppers in olive oil, you can enjoy them as an aperitif or as a starter, it's up to you, ideal for a dinner aperitif. I particularly like the baked peppers marinated in a little olive oil, if you like acidity a little lemon juice will be welcome. I just added some grated garlic with my Parmesan grater, just for fun. I chose an Ajaccio rosé from the Pratavone estate, I particularly liked its softness and beautiful color.
Peppers in olive oil recipe for 4 people:
Ingredients
2 red peppers
2 green peppers
2 yellow peppers
2 cloves garlic
1 knife tip of ground ginger
2 tablespoons of olive oil
Instructions
Preheat the oven to 200 °.
Rinse the peppers with water.
Place the peppers on a baking sheet.
Place in a hot oven for 30 minutes.
Flip the peppers and cook for another 20 minutes.
Let the peppers cool.
Cut them in half, remove all the seeds.
Lift and remove the skin.
Slice all the peppers into small strips.
Peel then mince the garlic with a grater over the peppers.
Sprinkle with the ginger.
Add olive oil.
Pepper generously, then salt.
Place in the refrigerator and let stand overnight.
Preparation time: 20 minutes
Cooking time: 50 minutes
Number of people: 4
4 star rating: 1 review
What wine to drink with: Peppers in olive oil
My favorite wine for this recipe: Rosé d'Ajaccio Grape Sciacarrello and Niellucco
Temperature between 08 ° and 10 °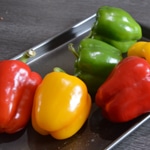 Rinse the peppers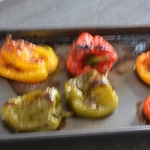 Cook the peppers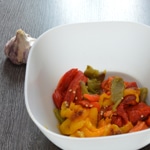 Slice the peppers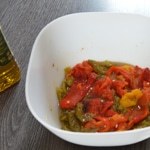 Leave to macerate overnight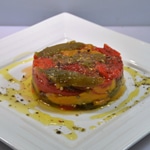 Zoom peppers in olive oil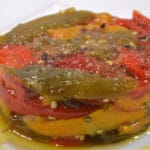 Partnership
A thought to all those connected from abroad in love with French cuisine and these wines, here is a great opportunity for you to buy a quality wine, to accompany my recipe for peppers in oil. I selected this Corsican wine from the Pratavone estate after tasting it, I adored its tender and warm color with salmon reflections and its flavor full of sweetness. It goes wonderfully with these tasty peppers. Made from the Sciacarrello and Niellucco grape variety cultivated and vinified with respect for its terroir, which gives a generous wine with aromas of citrus or clementines, it delights with its color and roundness in the mouth.
Patravone Estate
Mrs Marie BARTOLI
Domaine de Pratavone
20123 Pila-Canale, France
04.95.24.34.11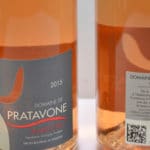 Patravone Domain 2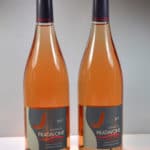 Patravone Estate