Recipe: Pickled Onions
Recipe onions in vinegar, for this I chose small white onions. I always like to have pickled onions to enjoy a homemade terrine. These small vinegar onions are slightly sweet and will decorate my next pâté en croute. Often I make an assortment, chanterelles, shallots, trumpets, onions, here is a house garnish worthy of large tables.
Recipe ingredients
Recipe onions in vinegar for 1 jar of 75 cl:
400 g small white onion
3 sprigs of fresh thyme
1 cinnamon stick
Instructions
Heat the vinegar, cinnamon stick and star anise in a saucepan.
Add the Séchouan pepper and the red berries
Simmer for 3 minutes.
Set aside on a window sill, so that the liquid cools.
Dry the aromatic herb with food paper.
Peel the onions
Cut the shallots in half so.
Scald then dry the jar.
Install the thyme stalks, so that they are over the entire height of the jar.
Pour in the red berries.
Place the onions at the bottom of the jar.
Pour the cooled vinegar over the onions.
Reserve under cover for 3 to 4 weeks.
Enjoy the onions for the end of the year.
Preparation time: 10 minutes
Cooking time: 12 minutes
Number of people: 4
4 star rating: 1 review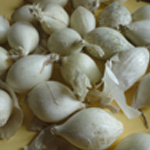 Peel the onions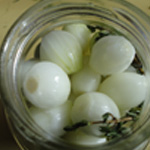 Store in the jar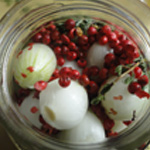 Add the red berries
Pour in the vinegar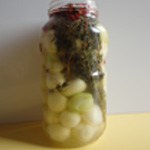 Add thyme