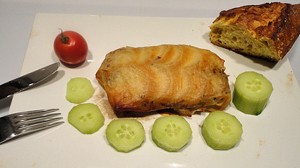 Pigtail recipe, here is a rather original and above all very affordable dish, the pigtail does not cost anything in supermarkets. Here the pig tails are cooked like pig's trotters, the cooking is rather long but the pig tails are candied and the result is worth the effort. I used brick sheets to have a little crunch with my pigtails.
Recipe ingredients
Pigtail recipe for 4 people:
6 pig tails
3 onions
8 small red potatoes
1 tablespoon of soy sauce
Salt and pepper
15 cl of white wine
4 sheets of bricks
Instructions
Peel and slice the onions
Rub with salt and rinse the red potatoes
Rinse the pig's feet with clean water.
Place the onions in the bottom of a cast iron casserole dish.
Place the pig tails over the onions.
Pour in the soybeans.
Place the potatoes alternately between the pig tails.
Pour 50 cl of water and the white wine.
Place in the oven at 150 ° for 4 hours 30 minutes.
Check the doneness of the pig tails.
Bone the pig tails.
Slice the potatoes.
Moistened the sheets of bricks.
Place the apples on the brick sheets.
Add a layer of cooked onions.
Add the pork over the onions.
Close the papillotes.
Bake in a hot oven at 200 ° for 10 minutes the time to color the sheets of bricks.
Preparation time: 30 minute (s)
Cooking time: 4 hour 30 minute (s)
Number of people: 4
4 star rating: 1 review
What wine to drink with: Pigtail
My favorite wine for this recipe: Alsace pinot noir Grape Pinot noir
Temperature between 12 ° and 14 °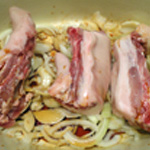 Pigtail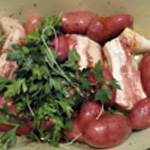 Add the potatoes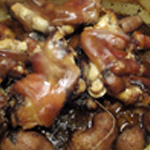 Cooked tail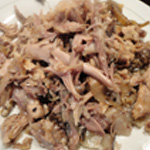 Bone tail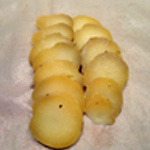 Slice the potatoes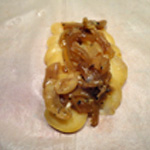 Add a layer of onion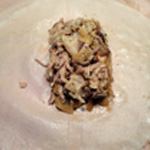 Then the meat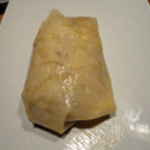 Close