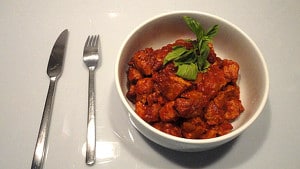 Recipe: Pork goulash
Goulash is a dish that I like to eat in summer, this time if it was at the end of the France England match. A fairly easy recipe to make with products that are not expensive, this makes it quite a popular dish. The Pork Goulash is a remake of the Hungarian Goulash that I have in store for you later. A recipe where paprika reigns supreme, but let's not forget the chili pepper that will tickle the back of your throat.
Recipe ingredients
Pork goulash recipe for 8 people:
1.5 kg roast pork in the tenderloin
20 g butter
2 tablespoons of olive oil
2 onions
2 knife tips gray pepper
2 tablespoons of sweet paprika
½ teaspoon chili pepper
1 can of peeled tomato
1 lemon
1 tablespoon of balsamic vinegar
Instructions
Slice the fillet into a good 1 cm round, then cut into 1 cm pieces.
Heat the butter with the olive oil in a cast iron casserole dish.
Place the pork racks in the hot fat
Pepper and salt
Peel the onions, then cut them finely.
Add a first spoonful of paprika, then stir
Add the second spoonful of paprika, then mix.
Add the chili pepper and mix well.
Leave to cook a little, then remove the center of the casserole dish and place the onions.
Add the peeled tomatoes and the juice of a lemon
Pour a spoonful of balsamic vinegar.
Place in a hot oven for 2 hours at 150 °.
Preparation time: 20 minutes
Cooking time: 2 hour (s)
Number of people: 8
4 star rating: 1 review
What wine to drink with Pork goulash:
My favorite wine for this Gigondas Grape variety recipe: Grenache noir, Mourverdre, Syrah
Temperature between 15 ° and 16 °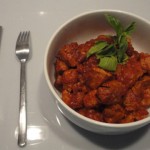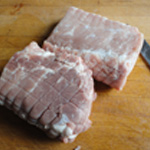 Cut lengthwise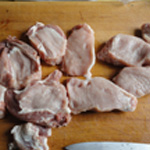 Slice into squares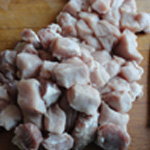 Cube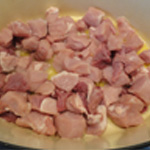 Bring back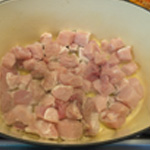 To return to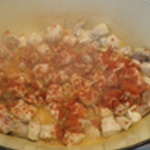 Spice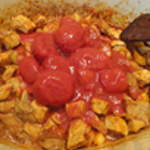 Add the tomatoes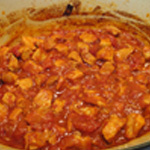 Let reduce