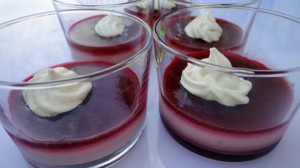 Recipe: Panacotta and raspberry mirror
Raspberry panacotta recipe or raspberry pana cotta recipe both spellings are tolerated. What a wonderful dessert the pana cotta, I never tire of it. Panacotta recipe for the pleasure of my guests, each time they ask me to make a new recipe, with new tastes. Here for this recipe I made it with a mirror, all in mauve colors as beautiful as I am. love the raspberry panacotta.
Recipe ingredients
Panacotta and raspberry mirror recipe for 8 people
Panacotta
50 cl of fresh cream 35%
40 g icing sugar
1.5 g teaspoon of Agar Agar (you can do this with gelatin)
250 g of raspberry coulis
The mirror
75g of fruit coulis
22 g sugar
1/2 lemon
1 gelatin sheet
Instructions
Mix the crème fraîche, icing sugar and agar agar.
Heat gently, then let it boil for a few seconds.
Let cool, covering your preparation with a lid.
Add the raspberry coulis
Pour into your verrines, use a funnel to avoid splashing.
Let sit in the refrigerator overnight.
Soak the gelatin sheet in lukewarm water.
Wring out the gelatin
Lightly heat the 75 g of coulis and dissolve the gelatin in it.
Let cool and pour the raspberry mirror over your verrines
Preparation time: 30 minutes
Cooking time: 0 minutes
Number of people: 4
4 star rating: 1 review
What wine to drink with Panacotta and raspberry mirror
My favorite wine for this Crémant d'Alsace (white) recipe Grape varieties: Chardonnay, pinot blanc, Riesling
Temperature between 7 ° and 8 °
Thanks to Nadine and Jean Christophe for their invitation.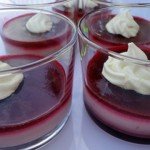 Prepare the coulis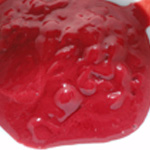 Grout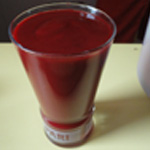 Sweeten the coulis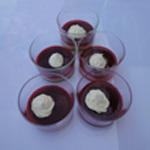 Pour into the verrines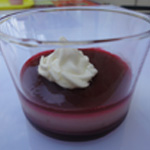 Zoom