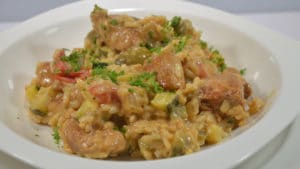 Chicken and Green Olives Risotto Recipe
What a joy to be able to taste a risotto, prepared Italian style, these Italians are the champions of risottos. This Chicken and Green Olive Risotto had little flavors that varied with each fork, in addition the meat was divinely soft (just cooked without excess it remained soft). I had chosen one of the best rice to make a Carvani risotto, seared with white wine and onions, it gave a little more flavor to this Risotto with chicken and green olives. Finally to finish talking about this dish, the first impression: beautiful sunny colors, the chicken charmed by the paprika took notes barely reddened by the flame. A few touches of green and black finish this beautiful Risotto with chicken and green olives, with its natural creaminess at the first stroke of the fork you will love.
Recipe for Risotto with chicken and green olives 6 people:
Ingredients
500 g of chicken strips
1 onion
½ green pepper
1 stalk of celery
2 tablespoons of olive oil
200 g of carvani rice
1 teaspoon of sweet paprika
6 black olives
6 green olives
1 vegetable broth
100 g grated Parmesan
Instructions
Heat the pan with a spoon of olive oil. Add the paprika, let it develop for a few seconds.
Add the chicken pieces and coat them well, cook them for a few minutes.
Reserve the chicken in the oven preheated to 80 °.
Peel the onion and cut it finely.
Rinse the celery stalk and green pepper.
Cut them finely.
Add a tablespoon of olive oil to the pan cooking the chicken (without washing it).
Sear the onions, letting them brown a little.
Then add the celery and pepper, then the rice.
Pour the black and green olives into the pan.
Dilute the vegetable broth with boiling water.
Prepare 1 ½ times the volume of rice for the water and add a little broth.
Add half of the water directly to the rice.
Pour the water as it disappears.
Add the Parmesan just before serving.
Add the chicken at the end of cooking
Enjoy very hot
Preparation time: 30 minutes
Cooking time: 15 to 17 minutes
Number of people: 6
4 star rating: 1 review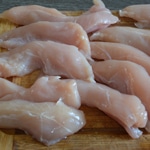 Mince the chicken
Sear the rice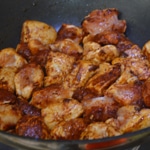 Sear the meat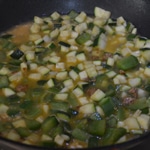 Add the vegetables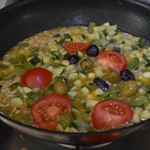 Add the olives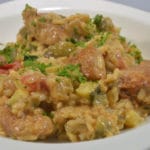 What wine to drink with: Risotto with chicken and green olives
My favorite wine for this recipe: Mas Champart Côte d'Arbo St Chinian Grape variety Syrah, Grenache, Mouvèdre, Carignan
Temperature between 15 ° and 16 °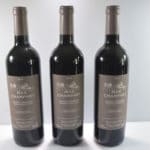 Bottles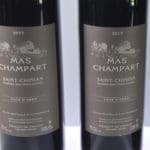 Zoom
Partnership with Mas Champart in Saint Chinian in Hérault
A thought to all those connected from France or abroad in love with French cuisine and its wines, here is a great opportunity for you to buy a quality wine, without any risk, to accompany my recipe for Chicken Risotto and green olives. I selected this Saint Chinian Côte d'Arbo wine from the Mas Champart estate after tasting it, I loved it.
Mas Champart Côte d'Arbo St Chinian 2015
With its beautiful ruby color and a nose of very ripe black fruits, sometimes with touches of cocoa or even mild spices or even roasted coffee. The tannins are soft but evolve very quickly with a very pleasant and full palate, I advise you to decant it at least two hours before tasting it.
Mas Champart
Bramefran
Route D 20
34 360 Saint Chinian
Phone: 04 67 38 05 59
Email: mas-champart [at] wanadoo.fr
 </p