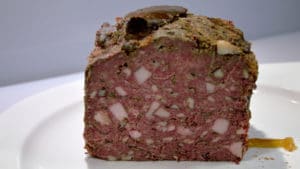 Cognac pork terrine recipe
I like making the terrines as much as tasting them, what a joy when you have friends and when you enjoy a beautiful pork terrine with cognac. This terrine is terrible; in addition we tasted it with a Crozes Hermitage which went wonderfully with this beautiful pork terrine with cognac and fig. For this time, my time was a bit short, I did not marinate my terrine and that changes its flavor. I am going to sterilize the rest of my pork terrine with Cognac, to enjoy it another time with other friends. a terrine that is not very expensive, I cut the throat into small cubes to find them in the stuffing, just for fun, it does not add anything to the taste.
Cognac pork terrine recipe for 6 people
Ingredients :
200 gr of pork loin
200 gr of pork liver
200 gr of bacon
2 pieces of pork strainer
1 egg
½ onion
1 clove of garlic
½ bunch of flat-leaf parsley
3 cl of cognac
Salt 15 gr per kilo
Pepper 1 gr per kilo
Instructions
Preheat the oven to 200 °
Peel the onion and garlic.
Rinse and hull the parsley.
Trim the meat then cut it roughly.
Cut 50 g of throat into mini cubes.
Chop the meats, reserving a few cubes of loin, with the onion and garlic.
Weigh the meat then salt and pepper, respecting the doses.
Add the egg and cognac.
Place the strainer at the bottom of the terrine.
Fill with the preparation, then cover with the rest of the strainer.
Cover with the lid
Bake in the bath for an hour and a half.
Preparation time: 40 minutes
Cooking time: 90 minutes
Number of people: 6
4 star rating: 1 review
Which wine to drink with: Pork terrine with cognac
My favorite wine for this recipe: Crozes Hermitage Cépage Syrah
Temperature between 16 ° and 17 °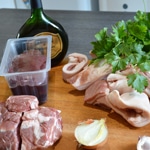 Ingredients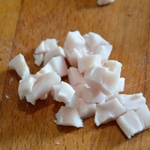 Cut the bacon into cubes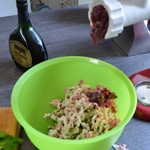 Chop the meat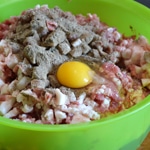 Season the terrine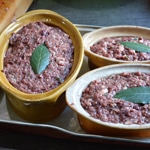 Cook in a bain-marie