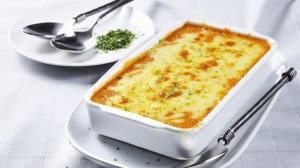 Recipe: Italian Lassagnes
Italian lasagna recipe, for a convivial dish to enjoy with friends, I served them with a tender salad from the garden. You can use the same meat as for your pot au feu for your Bolognese lasagna. The meat for this recipe must be cooked with a little Italian wine, which will give this sauce a very special taste. The béchamel has been enhanced with ricotta which has melted gently in this creamy sauce. I advise you to try these Italian lasagna, they are truly divine.
Recipe ingredients
Italian Lasagna Recipe for 10 people:
500 g of lasagna dough
1 kg of minced beef
350 fresh pork belly
350 g ricotta
200 g parmesan
2 cans of diced tomatoes
50 g butter
5 tablespoons of flour
1/2 liter of whole milk
20 cl of red wine
20 cl of beef broth
3 onions
3 stalks of celery
1 tablespoon of sweet paprika
2 tablespoons of chopped basil.
2 tablespoons of thyme
2 tablespoons of flat-leaf parsley.
3 sugar cubes
Instructions
Peel, cut into small squares, or grate the onions.
Rinse with clear water then cut into small squares or grate the celery stalks.
Heat a pan with olive oil, then add the vegetables, cook for 10 minutes then set aside.
Grill the smoked breast in the oven for ½ hour at 200 °
Chop the beef and pork, season with salt and pepper.
Brown the beef in the pan, sprinkle with paprika.
Add the vegetables to the meat.
Add the red wine and the beef broth.
Reduce the liquid by 3/4.
Add the crushed tomatoes and the sugar with the meat, then simmer for half an hour.
Meanwhile, make the lasagna dough and let stand for half an hour.
Roll the dough in several times so that it is elastic, I rolled up to number 5
Make the béchamel as here.
Assemble the lasagna, starting with a ladle of béchamel and a ladle of bolognese.
Arrange the lasagna sheets, then the bolognese and a small ladle of béchamel, sprinkle with Parmesan.
Repeat until all the bolognese are used up.
Finish with the béchamel sprinkle with the rest of the Parmesan.
Place in a hot oven at 180 ° for 45 minutes.
Preparation time: 60 minutes
Cooking time: 45 minutes
Number of people: 12
4 star rating: 1 review
What wine to drink with Italian Lasagna:
My favorite wine for this Montepulciano d'Abruzzo recipe: Montelpulciano grape
Temperature between 16 ° and 18 °
Thanks to Perrine for her big helping hand, a real pleasure to work with you.
thank you to Patrick for his trust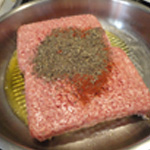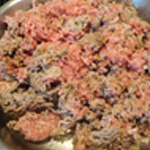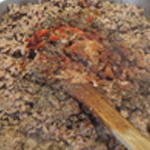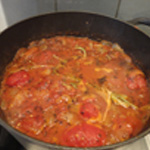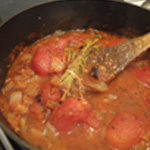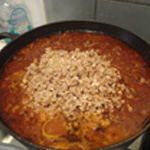 Add the pork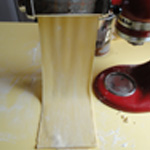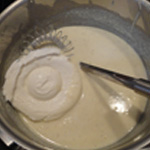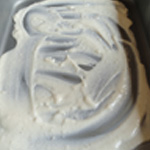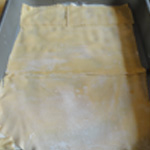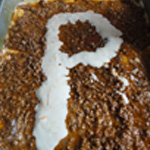 <img src="/wp-content/uploads/2021/09/8013619794119681302.jpg" class="aligncenter"