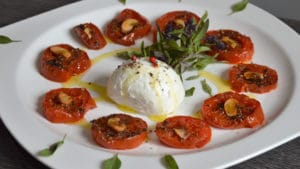 A tomato salad, you will tell me it's common well no !! we love tomatoes and this time I have them candied in the oven, to give them even more flavor. Of course for this recipe it would be better to start the day before so that the tomatoes are as cold as possible. Salad of candied tomatoes of different flavors, cooking tomatoes enhance the taste of tomatoes, we took a lot of pleasure to taste these tomatoes with different flavors. In addition for this beautiful recipe of candied tomatoes I had bought Thai basil at Biocoop de Vesoul
Confit tomato salad recipe for 2 people
Ingredients :
4 Roma tomatoes
1 clove of garlic
½ teaspoon ground pepper
2 sprigs of Thai basil
Instructions
Preheat the oven to 200 °.
Rinse the tomatoes and herbs under the tap.
Slice the tomatoes half a centimeter thick.
Place tomatoes on a nonstick baking sheet.
Crush the peppercorns in the mortar, then spread over the tomatoes.
Salt generously.
Peel the garlic then chop as finely as possible.
Place a slice of garlic on each tomato.
Drizzle the tomatoes with a spoonful of extra virgin olive oil.
Place in the hot oven for 12 minutes.
Let the tomatoes cool.
Gently place the tomatoes directly on the plates.
Drizzle them with the cooking oil.
Slice the mozzarella and add it to the tomatoes.
Preparation time: 10 minutes
Cooking time: 12 minutes
Number of people: 2
4 star rating: 1 review
What wine to drink with: candied tomato salad
My favorite wine for this recipe: Bugey red wine Grape gamay
Temperature between 16 ° and 18 °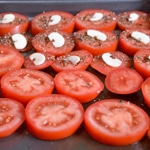 Lay the garlic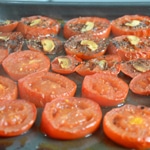 Slice the tomatoes in half