Potato salad recipe
A nice salad, welcome with the heat that is finally in place, football evening tonight with potato salad and barbecue. This salad full of flavor, I really liked the crunchiness of the peppers and the aroma of the small fresh onions. Divinely scented with apple cider vinegar, this potato salad left no one indifferent, crunchy with onions and peppers, we loved it. With this heat, well I would say, salads are welcome; we take advantage of the football evenings for quick meals without time spent in the kitchen, we tasted them under the trees just before the quarter-final where we more than appreciated the victory of France against Germany.
Potato salad recipe for: 8 people
Ingredients :
1 kg of Agata potatoes
5 small fresh onions
½ bunch of chives
2 green peppers
10 petals of sun-dried tomatoes
20 mint leaves
½ jar of sun-dried tomatoes.
1 teaspoon of Sichuan peppercorns
2 tablespoons of rapeseed oil
2 tablespoons of sunflower oil
2 tablespoons of apple cider vinegar
½ teaspoon of Maggi flavoring
1 teaspoon ground cumin
½ teaspoon of ginger
1 knife tip of powdered cloves
Instructions
Cook the potatoes in a volume of water for about 30 minutes.
Let cool then peel and cut into large cubes.
Peel the fresh onions cut in half, then into thin strips.
Rinse the peppers, cut in half and seed them.
Slice them into thin strips, then into mini cubes.
Dice the sun-dried tomatoes.
Pour in the oils, then the vinegar.
Add the Maggi.
Crush the pepper and add it to the preparation.
Rinse then dry the herbs, then finely chop.
Mix the salad and add a little salt.
Preparation time: 40 minutes
Cooking time: 30 minutes
Number of people: 8
4 star rating: 1 review
What wine to drink with: Potato salad
My favorite wine for this recipe: Alsace Pinot gris Grapes Pinot gris
Temperature between 08 ° and 10 °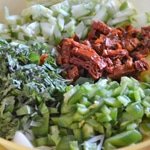 Ingredients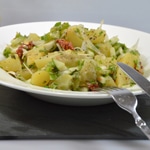 Zoom