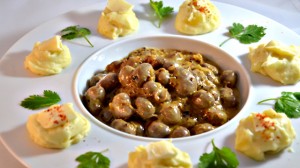 Recipe: Rabbit kidneys with mustard
Mustard Rabbit Kidney Recipe, I used grain mustard for this kidney recipe. Rabbit recipe, it is not always easy to find rabbit kidneys, with us the Leclerc offers them regularly. For cooking rabbit kidneys, unlike veal kidneys, we like them at home quite cooked, in any case not pink. We do not eat enough rabbits, they are white meat with very few calories, so they are healthy.
Recipe ingredients
Rabbit kidneys with mustard recipe for 2 people:
350 g of rabbit kidneys
1 nice shallot
2 cloves garlic
30g butter
1 tablespoon of grain mustard
10 cl of white wine
15 cl of liquid cream
Instructions
Peel the shallot and garlic.
Finely slice the shallot.
Trim the kidneys or have them prepared by the butcher.
Remove the fat from the kidney.
Heat the pan with the butter.
Sear the shallot in the pan and the butter.
Squeeze the garlic over the shallot.
Add the rabbit kidneys, salt and pepper to the mignonette.
Add the mustard and let it toast well.
Deglaze with the wine, reduce by half.
Cream the kidneys, reduce for a few minutes.
Preparation time: 30 minutes
Cooking time: 10 minutes
Number of people: 2
4 star rating: 1 review
What wine to drink with: Rabbit kidneys with mustard
My favorite wine for this recipe: Collioure rouge Grape Grenache noir, Carignan, Cinsault
Temperature between 15 ° and 17 °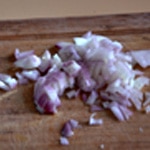 Chop the shallot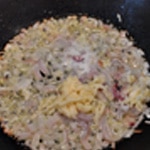 Toast the mustard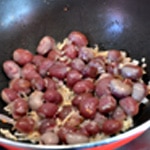 Sear the kidneys
Grab from all sides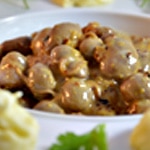 Zoom