Roast pork with chanterelles recipe
Instructions
roast pork with fresh chanterelles. We found them, with Léonie, yesterday morning in the woods. What happiness! For the preparation of roast pork you just need to mustard it before grilling it. Recipe roast pork in the oven in a cast iron casserole dish, it will cook gently for two hours. Cooking chanterelles. Here, in this recipe, they will cook from the beginning to flavor the roast pork and the sauce as much as possible. It's an easy way to cook chanterelles, but what a pleasure to pick them up in the woods. Pork roth an easy recipe to make.
Roast pork recipe with chanterelles for 4 people:
Ingredients
1 kg of roast pork in the loin
4 cloves of garlic
20 cl of white wine
4 tablespoons of mustard
1 tablespoon of olive oil
½ green pepper
½ orange pepper
½ yellow pepper
1 shallot
2 ears of corn
3 tablespoons of soybeans
1 chicken Maggi broth
1 clove
½ teaspoon ground ginger
½ teaspoon of cardamom
1 tablespoon of balsamic vinegar
Instructions
Mustard the roast on all sides.
Heat a cast iron casserole dish with 1 tablespoon of olive oil over medium heat.
Grill the roast pork on all sides without letting it burn.
Peel and slice the onions, shallot and garlic, then grill them with the roast.
Rinse the peppers in clean water, slice them into small squares and add them with the roast pork.
Clean the fresh chanterelles using a knife tip, then cut them in half and place them in the casserole dish.
Pour in the white wine and water, scrape well with a wooden spoon to loosen the grilled mustard at the bottom of the casserole dish.
Place the two ears on each side of the roast pork.
Add the soy sauce, cloves and chicken broth.
Season with the ginger and cardamom powder.
Add the spoonful of balsamic vinegar.
Place in a hot oven at 180 ° for 2 hours.
Preparation time: 20 minutes
Cooking time: 120 minutes
Number of people: 4
4 star rating: 1 review
What wine to drink with: Roast pork with chanterelles
My favorite wine for this recipe: Juliénas. Grape variety: Gamay.
Temperature between 13 ° and 14 °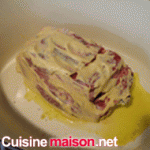 Mustard the roast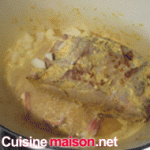 Grill the roti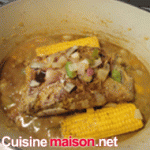 Add the onions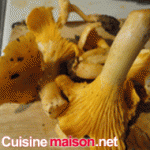 Prepare the chanterelles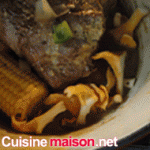 Add the chanterelles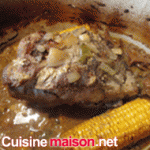 Let it be for now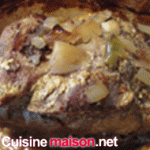 Zoom
Plate