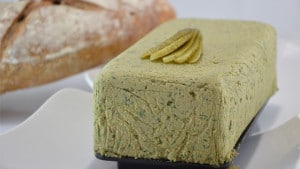 Recipe: Rabbit liver terrine
Rabbit liver terrine recipe, a recipe from my mom, she prepared it for us every year. A not very expensive recipe which will have big effects at the table, I like its taste. Rabbit liver terrine, ideal for entertaining friends, a quick preparation to prepare, ideal to start a meal with friends. Here is a great recipe to use your rabbit liver, you can freeze it to prepare your terrine when you have enough. It was a tradition at home, every year you had to wait until the end of the year to taste the rabbit liver terrine.
Recipe ingredients
Rabbit liver terrine recipe for 8 people:
330 gr of rabbit liver
165 gr of butter
1 leek
1 turnip
1 branch of fennel
1 onion
75 gr chopped parsley
30 gr minced garlic
120 gr of minced shallots
4 gr of fine salt
2 gr of ground peppercorns
Instructions
Wash the vegetables then roughly mince.
Generously cover the vegetables with salted water
Cook for 20 minutes.
Add the rabbit livers, simmer for another 10 minutes.
Filter the broth, reserving it.
Let the rabbit livers cool completely.
Sear the minced garlic and shallots in the butter, without letting them color.
Salt at the rate of 10 gr of salt for the liver per kilo.
Pepper at the rate of 3 gr per kilo of meat.
Let cool.
Mix the liver with the shallots and garlic.
Add the very cold butter.
Pour a little broth to relax the preparation.
Mold in a film to make a beautiful sausage.
Let stand overnight in the refrigerator.
Cut into slices just before tasting.
Preparation time: 15 minutes
Cooking time: 45 minutes
Number of people: 8
4 star rating: 1 review
Which wine to drink with: rabbit liver terrine
My favorite wine for this recipe: Aloxe corton grape Pinot noir
Temperature between 16 ° and 17 °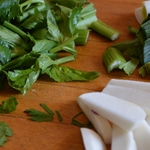 Rinse the vegetables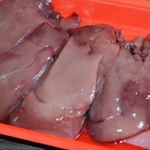 Rabbit liver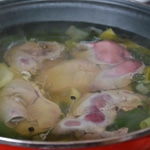 Blanch the livers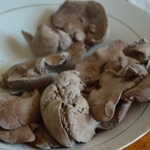 Cooked rabbit liver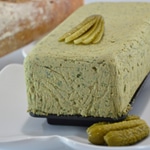 Zoom