Recipe: Raspberry mousse
Raspberry mousse recipe, for this recipe I served it in small verrines. With a particular decoration, here the raspberry coulis was king, poured directly on the mousse, it enhances this verrine with raspberry mousse. At home we love all the desserts served in the verrine. It is the high season for raspberries, they can be found in the gardens, but also at the market with a reasonable price.
Recipe ingredients
Raspberry mousse recipe for 20 people: or 20 to 30 glasses of 10 cl
1 kg of raspberries
0.500 l fluid cream
150 gr of icing sugar
2 g of agar agar
60 g caster sugar
Instructions
Mix the raspberries with the powdered sugar.
Switch to Chinese.
Heat 10 cl of cream as soon as it boils, add the agar agar, let it boil for another minute.
Add the heated cream to the raspberries, mix the preparation.
Whip the rest of the liquid cream into whipped cream.
Add the icing sugar.
Incorporate the whipped cream into the raspberry mixture
Pour into each verrine.
Refrigerate for 1 to 2 hours.
Preparation time: 55 minutes
Cooking time: 0 minutes
Number of people: 20 verrines of 10 cl
4 star rating: 1 review
Which wine to drink with: raspberry mousse
My favorite wine for this Riesling recipe: Riesling grape
Temperature between 08 ° and 10 °
Raspberries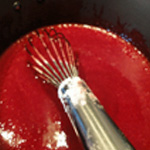 Make the coulis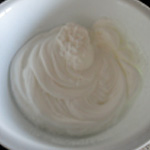 Assemble the whipped cream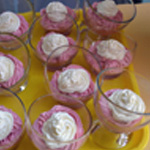 Pour into the verrines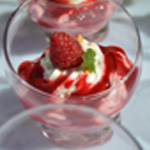 Zoom