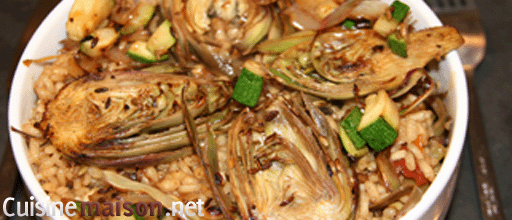 Violet Artichoke Risotto Recipe
Summary : Recipe for risotto with purple artichokes, a flavored risotto with the Prince of Brittany and of course the traditional parmesan, we loved it. I like to cook risotto, often my friends are not introduced to this essential Italian dish, with so varied flavors. You can of course, as you wish, create risottos with what is left in your refrigerator, the only obligation is Arborio rice, it remains the essential ingredient in a risotto and it can now be found everywhere, including in malls.
Violet artichoke risotto recipe for: 4 people
Ingredients :
5 purple artichokes
200 g of Arbario rice
1 zucchini
1 onion
1 lemon
1 glass of white wine
1 tablespoon of olive oil
2 chicken stock cubes
4 pieces of sun-dried tomato
Instructions
Wash the artichokes, remove the hard outer leaves and cut the artichokes into thin strips.
Brown them in a pan with oil for about 10 minutes, once golden brown, set aside.
Then brown the onion and the zucchini then add the artichokes, the glass of white wine and let reduce.
In ½ liters of lukewarm water mix the chicken broths.
Gently deglaze in the pan.
Cook for about 15 minutes, adding more water whenever necessary.
The risotto should not run out of water, but it should not be drowned.
Be patient the result will be all the more pleasant
Preparation time: 30 minutes
Cooking time: 15 to 20 minutes
Number of people: 4
4 star rating: 1 review
What wine to drink with: Purple artichoke risotto
My favorite wine for this Syrah Grape variety recipe: Syrah
Temperature between 15 ° and 16 °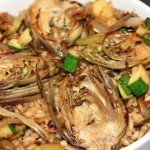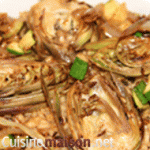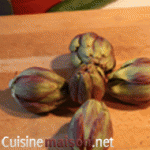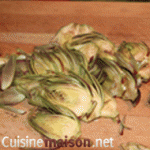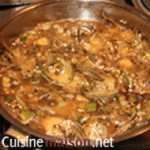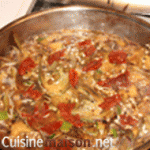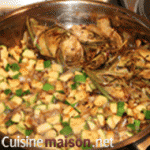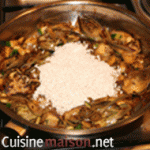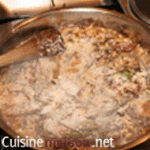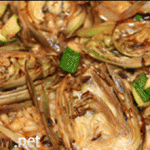 More recipes:
Gambas risotto

Vegetable Risotto

Zucchini risotto

Purple artichokes gratin Pascal
Hide reactions

Hello, Oops
I just rectified anyway thank you for the info.
See you soon Pascal

I reread this recipe several times to find out how to cook rice?
Your reactions / questions / tips: Cancel reply
Remark
Name *
Email *
Website
</p