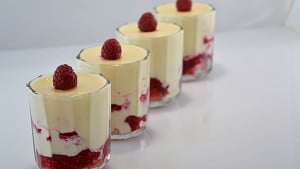 Recipe: Raspberry tiramisu in a glass
Recipe for raspberry tiramisu in a verrine, as beautiful as it is good, this dessert has had a great impact on my friends. 4 girls at the table only big greedy, a good stroke of the fork, the very flexible elbow, finally a great evening. I love this tiramisu and I will test the strawberry in stride, I'll save my comments for next time, but frankly I already salivate. Raspberry is by far my favorite fruit, I like its tangy taste and its devilish color, which stains… .. Raspberry tiramisu in a verrine, I like this Italian dessert made from mascarpone, be careful not to sweeten it too much.
Recipe ingredients
Raspberry tiramisu recipe in a glass for 5 people:
3 eggs
250 gr of raspberries
1 tablespoon of water
2 tablespoons of raspberry liqueur
3 boudoirs
Instructions
Separate the whites from the yolks.
Snow the egg whites with 10 g of sugar.
Crush the raspberries in 20 gr of sugar, reserving the 5 most beautiful raspberries
Mix the water and the liqueur;
Dip the ladyfingers in the preparation, then store them in the verrines
Add half of the raspberry puree
Blanch the yolks with 50 gr of sugar.
Mix the yolks with the mascarpone.
Incorporate the whipped egg whites into the mascarpone mixture.
Pour half of the cream into the verrines.
Place in the refrigerator for 1 hour.
Pour in the rest of the raspberries, and finish with the mascarpone
Leave to set in the fridge for 5 to 6 hours.
Place the raspberries as a decoration just before serving.
Preparation time: 20 minutes
Cooking time: 0 minutes
Number of people: 6
4 star rating: 1 review
What wine to drink with: Raspberry tiramisu in a glass
My favorite wine for this recipe: Gewurztraminer late harvest Grape variety Gewurztraminer
Temperature between 10 ° and 12 °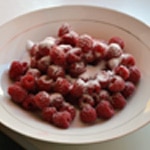 Sweeten the raspberries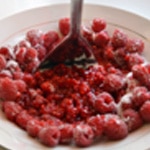 to mix together
Crush the raspberries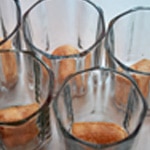 Start with the boudoirs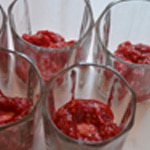 Add the raspberries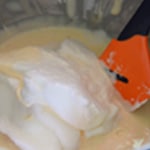 Add the whites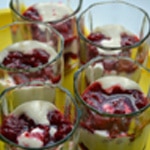 A layer of raspberries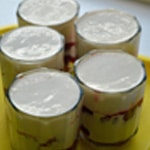 Finish with the mascarpone