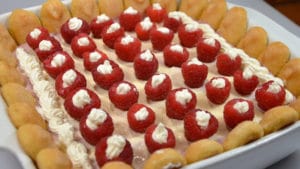 Raspberry tiramisu recipe:
Instructions
I like to use this fruit which has so much taste and such a particular color. Frozen raspberries will do well to make a coulis, you just have to think about thawing them early enough. Of course I added fresh raspberries to make my decoration, they were very fleshy, easy to fill with whipped cream, you still need a very small nozzle. A true marriage of convenience with mascarpone and raspberries, no need for coloring, the result is spectacular with this raspberry tiramisu.
Raspberry Tiramisu recipe for 8 people:
Ingredients
500 g mascarpone
500 g of frozen or fresh raspberries
250 g fresh raspberries
20 cl of liquid cream
3 large eggs
100g sugar
2 tablespoons of icing sugar
1 sachet of vanilla sugar
25 to 30 spoon cookies
4 tablespoons of raspberry liqueur
Instructions
Separate the whites from the yolks.
Beat the yolks with the sugars.
Add the mascarpone in several batches.
Beat the egg whites.
Incorporate the egg whites with the mascarpone.
Blend the thawed raspberries with the icing sugar.
Pass the coulis through a Chinese to remove the raspberry seeds.
Incorporate the raspberry coulis into the mascarpone preparation, keeping a little coulis to decorate.
Pour the raspberry liqueur into a deep plate.
Add 4 large tablespoons of water.
Add 1 tablespoon of raspberry coulis.
Mix well to incorporate the raspberry coulis.
Dip cookies briefly in coffee.
Line the bottom of the pan with 1 layer of cookies. I put the sweet side down because it is slightly harder and therefore less liquid evacuates.
Cover with a layer of raspberry cream.
Add 1 layer of cookies.
Finish with 1 layer of raspberry cream.
Refrigerate for 24 hours.
Whip the whipped cream.
Place the cream in a pocket with a small non-notched nozzle.
Place the fresh raspberries upside down on the mascarpone cream.
Fill the hollow with the raspberries in the pocket.
Preparation time: 30 minutes
Cooking time: 0 minutes
Number of people: 8
4 star rating: 1 review
What wine to drink with: Raspberry tiramisu
My favorite wine for this recipe: Mac vin du Jura Cépage Trousseau; Poulsard; Pinot Noir
Temperature between 09 ° and 12 °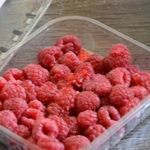 Thaw the raspberries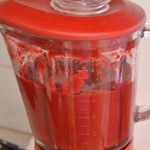 Mix the raspberries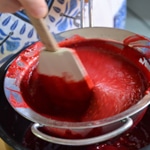 Pass the raspberry coulis through a Chinese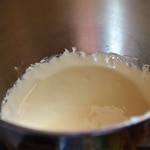 Beat the mascarpone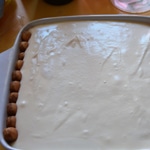 Whip the tiramisu