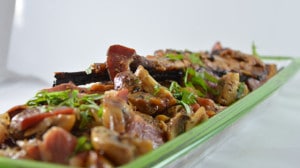 Recipe: Rabbit and raw ham
Rabbit and raw ham recipe, at home we love rabbits, here it was a beautiful piece. A big thank you to Félicie for her delicious rabbit, already eaten. The rabbit is a white meat and low in calories, it is often preferred by people who pay attention to their diet. I really liked this slightly smoked rabbit with the combination of rabbit and raw ham, to renew.
Recipe ingredients
Recipe for Rabbit and raw ham 6 people:
1 rabbit
200 g of raw ham
2 tablespoons of armagnac
200 g large mushrooms
1 tablespoon of Provence herbs
15 cl of fluid cream
1 tablespoon of olive oil.
Instructions
Heat a cast iron casserole dish with olive oil.
Slice the raw ham.
Grill the raw ham in very hot fat.
Reserve the ham as soon as it is grilled.
Generously grill the pieces of rabbit.
Add the grilled ham at the end.
Pour the armagnac and flambé the meat.
Salt and pepper.
Add the mushrooms.
Pour in the cream.
Leave to cook for an hour and a half on low heat.
Preparation time: 10 minutes
Cooking time: 1 hour and 15 minutes
Number of people: 6
4 star rating: 1 review
What wine to drink with: Rabbit and raw ham
My favorite wine for this recipe: Valençay Rouge Cépage Cabernet franc, Gamay
Temperature between 14 ° and 15 °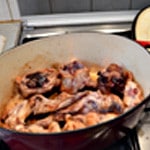 Grill the rabbit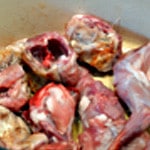 Flip and grill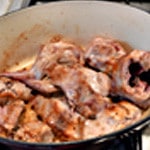 Add wine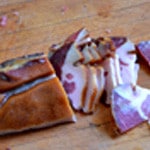 Slice the ham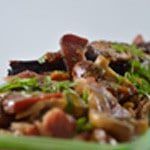 Zoom